_

HOME



Pautzke Bait Co. is Outdoors
Niagara's major sponsor-please support Pautzke





"It's Yours, use it, protect it, share
it."
"Niagara's
Premier Outdoors Website"
Exclusively on Outdoors
Niagara
---

Bill Hilts Jr. Thursdays ~
All about the
outdoors

Note: Hilts is Niagara County's Outdoor Sports
Specialist Email Bill Hilts Jr.


VOTE IN OUR BRAND
NEW MINI POLL HERE
– ADD YOUR '2 CENTS!' No need for email address, nothing, just vote!


READ
ABOUT BILL Hilts Jr. ALASKA FISHING TRIP HERE!

Meet Bill on TV! "The Outdoor Beat" ► www.lctv.net
Live calls can also be taken
at 434-1733 on Wednesday afternoons.
---
---
Note: This column is updated every week ~
Bookmark it to come back!
Lots of archived stories below ~ read 'em, they will be deleted as time goes by

Go to
Hilts Weekly Weekend Fish Locator page…Updated every Thursday on this website
SOME Hilts Older Sunday archives are below on
this page and will be deleted on occasion ~
Read 'em before they are gone!


CAPTAIN DOUG STEIN REMEMBERED 1947-2009
VOTE IN OUR BRAND
NEW MINI POLL HERE
–

Learn how to fish on Lake
Ontario and catch salmon like these!

Take a Kid Fishing!
[Don't forget the camera!]






Pautzke Bait Co. is Outdoors
Niagara's major sponsor-please support Pautzke.
A
U.S. of A.
Company! ………THANKS!


Crossbows Back In the News Go
Here
---
SCATTERED NEWS AROUND WNY
NOVEMBER 24 201
Bill Hilts Jr.
Outdoors: Thanksgiving hunts stir vivid
memoriesThanksgiving
<<<<<<< Jason Johannes of Ransomville took this
buck from a Niagara County cornfield during opening weekend of the
regular season with his Remington muzzleloader.
Outdoors: Thanksgiving hunts stir vivid memories– a time for
giving thanks, sharing a bounty of food and making outdoor
experiences. I thought about all of that and more this past weekend
while big-game hunting on the hills of southern Steuben County for
the regular-season opener. It's a magical time of year for sure.
It's a tradition that started for us more than five decades ago –
the same hill; the same tree in some cases.
There were five of us huddled under different trees in the Town of
Greenwood when the sun finally came up on Saturday morning. It was
unusually mild out, making for more favorable conditions for the
"veteran" hunters in the group like Bill Hilts, Sr. of Sanborn. Just
a month shy of his 85th birthday, the elder Hilts shared a little
excitement and spark when preparing for this year's hunt. Health
issues kept him out of the woods last year. This was another chance
to chase whitetail deer again … and share memories of other hunts.
Camaraderie is an important part of every hunt.
One memory involved a big 11-point buck that "Big Bill" took on
Thanksgiving Day decades ago. However, his reflection was still as
vivid as if it was yesterday. Listening to the stories were Rick
Hilts of North Tonawanda, Thure Larson of East Amherst, and, new to
the group, Carl Mottern of Kenmore. Brother Dave Hilts of Burt was
on call for road patrol in Newfane driving a snow plow so he
couldn't make it. Don Starkey of Lockport, another long-time member
of the group, passed away last year after a bout with cancer. Art
Hartley of Niagara Falls, one of the original members hunting this
hill, also passed on to the happy hunting grounds this past year.
While those missing members were not there in body, they were there
in spirit. In fact, I hunted from a favorite tree of Starkey's on
Saturday afternoon while the wind was whipping up from Argos.
Earlier in the morning I hunted from my Dad's favorite hemlock – the
same tree that he took that 11-point buck from (and many more over
the years). It produced a doe this year. The spirits of past hunts
live on as we remember these outdoor adventures and give our thanks
as only a true hunter can.
Growing up in a hunting family, we never had Thanksgiving on
Thursday. We spent our time hunting, giving thanks in a different
way. Our special family dinner would always take place on Sunday,
following the hunt. While times have changed for us, every family,
every group, settles in with their own ways of giving thanks. Here
are some other ways sportsmen in Western New York pay homage on this
special day:

---
Ozarks – Part III –
See parts 1 and 2 below

"Show Me" a Quest for Personal Best Bass

"What goes around comes around."
Many
people believe in that statement and follow a path in life that
subscribes to that way of thinking. To a certain extent, it
worked for Scott Pauley and me during our recent visit to the
"Show Me" State in and around Lake of the Ozarks, Missouri.
Pauley, who is contracted out by the state's Division of Tourism
for promoting its fishing resources (hint, hint I Love NY
people), visited Niagara USA a few years ago on his way back
from attending the Outdoor Writers Association of America
conference in Lake Placid. He enjoyed a couple of days of
fishing, including some pretty darn good bass action on the
Niagara Bar, during his September stop-over. He offered to take
us out with the hopes of showing off his home state. More on
that a little later.
We ended Part II by checking in to Holiday Shores Resort

www.holidayshoresresort.com , located between Osage Beach
and Lake Ozark. We unpacked the Tahoe and headed over to the
Tropic Island, a 75-foot luxury yacht that offers 90-minute
narrated cruises around the lake at a nominal fee. Capt. Omer
Clark runs a tight ship and the trip was very informative

www.tropicislandcruises.com . Back to our temporary home at
Holiday Shores. What was cool about this place was that we had
our choice of three different floors for sleeping options.
We were up bright and early to meet up with Marjorie Beenders
and Kyle Stewart for breakfast (at Stewart's of course for
another cinnamon roll and a pork chop breakfast) for a recap of
what we had experienced so far and plans for what was yet to
come. Of course, they were happy the trip was going well … but
it's what they expected. They had much pride in the area, as
well as the state. They couldn't wait to "show me" more.
Off to Lake of the Ozarks State Park
www.mostateparks.com ,
the state's flag ship park at nearly 18,000 acres. Not only is
it the biggest, it is also the most popular as far as visitation
is concerned. I'm still amazed that there is no fee to enter any
of the state parks in Missouri. A total of 12 hiking trails are
available. That's not all though. The park offers up a
self-guided aquatic trail, mountain biking options and
equestrian trails for those that like to ride horses. The park
also has boat rentals, public ramps and docks. Fishing is always
just a cast away.
Inside the park was another attraction we needed to see: Ozark
Caverns. This one was entirely different than the Bridal Cave.
There was no internal lighting (we had to carry lanterns on the
tour) and we couldn't take anything extra into the caverns (like
wallets or cameras) due to the threat of White-Nose Syndrome (WNS)
spores being carried out and transported to another area. WNS is
decimating bat populations throughout the continent. Since it
was first discovered in Howes Cave in New York in 2006, more
than a million bats have already died. It's important to become
informed on the issues.
The tour itself was very interesting, featuring an impressive
"angel shower" – one of only 14 in the world and the only one in
the United States open to the public. The "angel shower" pours a
never-ending stream of water out of appears to be solid rock …
and into a bath tub made of calcite. The source of the water,
despite some intensive research, has not been discovered. For
more information on the caverns, call 573-346-2500.
After we left the caverns, we took a quick tour around the park
and visited the Swinging Bridges of Brumley – a historical
attraction off the beaten path. We actually caught some of the
locals doing some "bridge jumping" (not recommended) as we drove
across the 400 foot long antiquated structure. It has stood the
test of time, an early adaptation to the construction of Lake of
the Ozarks back in 1931.
Not knowing how far we were from any kind of a gas station (and
with our gas gauge flashing an early warning) we used Onstar to
locate the nearest petrol store to avert any kind of
embarrassment. Technology can be wonderful. Onstar sent the
Tahoe directions immediately to the navigation system and we
were filling up within five minutes. We were closer to
civilization than we thought. Tip: Check the gas tank
We hit a couple of wineries during our stay, finding many of the
selections to our liking. Shawnee Bluff Winery

www.shawneebluffwinery.com in Lake Ozark offered a
great view overlooking the lake with an indoor tasting room and
bistro that was pleasing to the palate. There were several other
wineries in the area, too – a great way to break up the trip.
While golfing didn't fit into our itinerary this time around,
the area offered up some amazing courses. If you enjoy hitting
the little white ball around, you'll want to check out this
region for sure. The only golfing we did was at Sugar Creek for
a quick round of miniature golf. Even those courses are
elaborate, giving us the option of two different 18-hole
courses. (
www.sugarcreekminigolf.com . As we've been saying all along,
fun for the whole family!
Another side trip was to Tour L'Osage Caviar facilities, a
subsidiary to Osage Catfisheries, Inc. Founded by Jim Kahrs in
1953, the caviar side of things blossomed because of the
declining wild sturgeon populations in the Caspian Sea. In 1981,
the family began paddlefish production – a fish found abundantly
in the lake – and started its "paddlefish ranching program" in
1984.
"Aquaculture is a huge part of our business right now," said
Steve Kahrs, part of the next generation of family running the
show. "We have 32 different species of fish that we offer to
aquariums and research facilities around the world. You can see
some of our fish in Bass Pro and the aquarium in Scottsdale,
Arizona to name but a few."
The icing on the cake, so to speak, was the final fishing trip
courtesy of Pauley. Big Ed Franko, Lake of the Ozarks fishing
guide (
www.bigedsguideservice.com ) and co-owner of Bass &
Baskets Bed and Breakfast in Lake Ozark (
www.bassandbaskets.com
) with his wife, Deb, also offered to help take our little group
out in the morning before the sun chased us indoors. It was
going to be a hot one!
We met at Big Ed's lakefront accommodation and boat dock. Pauley
was already there. We hopped on board and within five minutes we
were fishing. Laurie Calvert from Oregon City, Oregon was the
first to create excitement, hauling in a four and a half pound
largemouth – her first fish ever! She was bouncing a rubber worm
along the bottom. Her husband, Joe, will now have to include her
on future fishing outings!!
Everyone caught fish for the few hours we were on the water.
Crankbaits, swim baits and rubber worms were the three most
popular enticements. It was near the end of our trip when my rod
doubled over while drifting a rubber worm in 25 feet of water.
Several times the fish stripped out line. Finally, after about a
five minute battle, we pulled in a hefty six pound largemouth –
a personal best. What a great way to end our trip, after
exploring a new area and making new friends along the way.
That's what it's all about. We can cross the Ozarks off of our
bucket list, but that doesn't mean we won't be back for some
more fun in the sun … and on the water. Check out the Ozarks
Convention and Visitor Bureau's website at
www.FunLake.com ;
1-800-FUN-LAKE.
Beginners Luck Reigns True for Summer Derby … Again

For Chad Fenstermaker of Warren, Ohio, this was a maiden voyage
on Lake Ontario out of Olcott, fishing with Capt. Mitch Shipman
of Signature Charters. Little did he realize he was about to
make derby history by setting the pace in the 7th Annual Lake
Ontario Counties (LOC) Summer Derby held July 1-31, 2016 –
winning the $10,000 Grand Prize by reeling in a 31 pound, 7
ounce Chinook salmon the final weekend of the contest. They also
won the $1,000 weekly salmon prize.
It started Friday morning, July 29. Weather was a bit rough but
they decided to head out in Shipman's 21-foot 2010 Ranger 620
named Signature Charters about 10 am. At around 12:30 pm,
pulling a Raspberry Shadow Moonshine spoon 90 feet back on a
dispy diver set on No. 2 over 205 feet of water somewhere north
of Wilson off Niagara County, the big fish hit.
"It took out over 500 feet of line when we hooked the winner,"
said Fenstermaker, reeling in his first and biggest salmon ever.
He told the crowd at Captain Jack's in Sodus Point that he will
split the Grand Prize with Captain Mitch. Fenstermaker is a
signal maintenance employee for Norfolk Southern Railroad and is
also in the Air Force Reserves. His share of the money will
probably go for a honeymoon. He was married to his wife Rachel
last November and they've not had that special celebratory trip
yet. Remember Chad, Niagara Falls is the honeymoon capital – a
perfect place after your Niagara USA king!
First place in the Salmon Division was Larry Wills of Lewiston,
NY with a 30 pound, 15 ounce king salmon reeled in on July 8.
The fish held up in the race for Grand Prize for three weeks
before the last weekend heroics. Fishing with his brother-in-law
Don Stephenson and Timothy Wills aboard Wills' 24-foot Penn Yan
"Reel Therapy," they made a last minute decision to take off
from work late in the day and meet at the Wilson launch ramp.
"You need a pass in the derby if you want to get on the boat,"
said Wills at the awards gathering. "It was my biggest salmon
ever and it took about 40 minutes to bring to the net." They
were fishing straight out from Wilson 40 feet down over 400 feet
of water with a purple colored Warrior spoon off the downrigger,
hooking the fish at 6:30 pm. They won $1,000 for first place
plus $1,000 for the weekly salmon prize.
Top Youth salmon catcher was Nicolas Curtiss of Overland Park,
Kansas with a 28 pound, 5 ounce fish reeled in off Olcott while
fishing with Capt. Vince Pierleoni and Thrillseeker on a spin
doctor and A-Tom-Mik fly. He placed 13th overall in the
division. John Powell of Niagara Falls, NY weighed in the
largest salmon by a Lake Ontario Trout and Salmon Association
member to win an extra $500 in addition to his 11th place
winnings. The fish checked in at 28 pounds, 8 ounces and was
caught out of Wilson. It was interesting to note that the 20th
place salmon weighed in at 27 pounds, 7 ounces.
In the Brown Trout Division, Guy Witkiewitz of Ontario, NY set
the pace by reeling in a personal best 18 pound, 14 ounce
brownie to win the $1,000 first place prize and the $250 weekly
prize. Second place Brown Trout went to Thomas Gies of Ann
Arbor, Michigan with a 17 pound, 6 ounce. He caught the fish on
July 3 and it held up almost the entire derby. Fishing with
Capt. Dan Evans of Lone Wolf Fishing Charters out of Wilson,
they were trolling over 220 feet of water – an unusual place for
a big brown – especially since they had been catching salmon.
Gies' personal-best brown bit an Ice Shadow Moonshine spoon 45
feet down. They were fishing out of Evans' 32 foot Luhrs that
sports the name "Lone Wolf."
Top Youth Brown also came in through some unique circumstances.
Adam Flachbart of Fairview Park, Ohio was casting off the pier
in Olcott with his dad when a 14 pound, 5 ounce trout grabbed
hold of his Yo-Zuri crankbait – "a color they don't make any
more." While the fish didn't make the Top 20, he still received
a nice trophy for his efforts.
In the Lake Trout Division, the winning catch this time around
came from Henderson Harbor as the east and the west continue to
have a slug-fest from derby to derby. Ephraim Burt of Watertown
was fishing with angling buddies Chuck Trump and Joe Sabadish
took the lead on July 16 and never looked back when they weighed
in a 24 pound, 3 ounce laker. Second place laker went to the
Western Basin when Bob Turton of Sanborn registered a 23 pound,
7 ounce fork-tail, a fish he caught with his father (Roger) on
July 3 for the early lead. Fishing from their 19-foot Crestliner
named "RT and Son," they were trolling the Niagara Bar with a
green Kwikfish lure in 80 feet of water. They caught the fish at
10:30 am and it took them about 15 minutes to reel the fish to
the net. "Dad" also managed to place a fish on the board, a 19
pound, 1 ounce laker that finished in 12th.
The Rainbow-Steelhead Division saw a tight battle for first.
Wade Winch of North Tonawanda was crowned the overall champ by
virtue of his 17 pound, 10 ounce personal best trout. He caught
the winning fish with Pete Baio while fishing out of a 21 foot
Cruisers named "S & K." They were trolling off Wilson in 180
feet of water using a purple Dreamweaver spoon behind a slide
diver set back 185 feet on a No. 2.5 setting. It hit their
offering at 8 am. This was the first time the two anglers fished
together.
Just two ounces back for second place was Alfonse Gouker of N.
Versailles, Pennsylvania. He caught the personal best steelie
out of Olcott while fishing with Dave Pasquale (Captain Dave)
and John Cyprowski aboard Captain Dave's 24 foot Imperial boat
named "Way-In." They were fishing straight out from Olcott in
230 feet of water using a spin doctor and green A-Tom-Mik fly
behind a dipsy diver set on No. 3 and pulled behind 220 feet of
line. They caught the fish at 9 am. Gouker was driving the boat
when he jumped up to grab the rod.
Top Youth division catch was a 16 pound, three ounce fish
winched in by Francis Holly IV of Wilson. It ended up in 4th
place overall. Fishing straight out of Wilson with his father,
Francis Holly III, they were in 90 feet of water, using
downriggers 40 feet down with green Stinger spoons when they hit
a double – a salmon and a steelhead. They boated both with a lot
of luck. Francis III also placed 15th in the Steelhead Division
with a 12 pound, 5 ounce fish. They were fishing out of their
21-foot Sea Nymph named "Blue."
Next up on the derby calendar is the "Return of the King" Fall
LOC Trout and Salmon contest slated for August 19 through Sept.
5. Over $66,000 in cash will be up for grabs including a $25,000
check for the largest salmon; daily prizes for largest salmon
($500), brown trout ($200) and steelhead ($200). For more
information or to find a list of weigh stations and registration
outlets, go to the derby website at
www.loc.org

Lake of the Ozarks –
Part II
…….See Part l just below this
story
Old Kinderhook with Tahoe;
and golf course view from our room


Ruins at Ha Ha Tonka
| | |
| --- | --- |
| Our Lodging and Chevy Tahoe | Bridal Cave |
Attractions Abound Above – and Below – Missouri's
Surface
Photo
– Casey Scanlon with a nice Ozarks largemouth.
Leaving Alhonna Resort on the shores of Lake of the Ozarks was
bittersweet. We felt we had only scratched the surface and we begged
for more as we pulled away in our Chevy Tahoe. The Tahoe was made
for this terrain. Every driveway seemed perpendicular along the
lake, dealing with the tops of the hills that now surrounded the
lake after the valleys below were flooded back in 1931. We were
driving the 2016 LTZ version, a perfect fit for two couples with
lots of luggage. Of course, with a third seat in the back, it's also
a great vehicle for the family. The 5.3 Liter V-8 VVT with direct
injection and cylinder deactivation gave us the power we needed. We
could have trailered up to 8,600 pounds had we wanted to … and the
next trip we just might have a pontoon boat fully loaded.
Our first stop for the morning was a breakfast that legends are made
of. Kyle Stewart (no relation) who had put together an itinerary for
us, recommended a place in Lake Ozark called Stewart's. We were told
to order their famous cinnamon rolls, as big as a "catcher's mitt."
Sandy and I ordered one to split; Joe and Laurie Calvert split one
as well. No exaggeration, they were bigger than a catcher's mitt!
More like a soccer ball! And they were delicious. I also ordered
their famous pork tenderloin smothered in gravy (if my doctor is
reading this, I did have plenty of exercise to work it off as you
will read about). It covered the plate. Not your standard dinner
plates … one of the big oval ones! Hash browns and toast rounded out
the monster platter. Yes, I'm a food guy and I appreciate quality.
As we stuffed ourselves back into the Tahoe, we realized we wouldn't
need lunch. The next part of the lake we would visit was the area in
and around Camdenton. The first attraction we came to was Bridal
Cave ( www.bridalcave.com ),
one of the largest caves in the state. Missouri has a wealth of
caves and caverns, hitting the 7,000 mark just recently. When it's
all said and done, the Show Me state will be number one when it
comes to overall numbers within Missouri boundaries. This cave was
cool – literally and figuratively. Calcite deposits with
stalactites, stalagmites, soda straws and so much more mesmerized
folks on the tour. There was a connection with Western NY where they
announced the "Frozen Niagara" calcite formation. More than 2,500
couples have been married in Bridal Cave or renewed their vows –
another connection with the Honeymoon Capital. This is a must see
for the entire family.
Geologically speaking, Missouri is littered with a "karst"
topography, a landscape that is filled with sinkholes, caves,
natural bridges, large springs and underground streams. Many of the
caves in the state can be found on private land. However, there are
many on public land, too. For example, nearby Ha Ha Tonka State Park
– recently named by USA Today readers as the fourth best state park
in the country – has 19 caves recorded within its boundaries … so
far ( www.mostateparks.com
). It was a beautiful park and we even hiked up a castle trail that
took us up to old ruins on a bluff overlooking the Niangua arm of
Lake of the Ozarks, a spot we would be fishing the next morning.
When we stopped into the Visitors Center at Ha Ha Tonka, we
immediately found out that there is no admission fee into any of the
state parks in Missouri, thanks to a dedicated funding source (with
the exception of camping sites). The public land was just that, for
the public to use. What a novel idea. With 88 parks in the state,
they will be celebrating a milestone next year (2017) – 100 years of
the state's natural and cultural attractions. Pick up a copy of the
state's Parks Centennial Passport. Earn a stamp by visiting each of
those parks and the first 1,000 people receive a prize. Five grand
prizes will be up for grabs, too. Last year, some 19 million people
visited Missouri parks (
www.mostateparks.com ).
Next stop was our accommodations for the evening – Old Kinderhook (
www.oldkinderhook.com ).
If you are looking for quality in the way of lodging, golf, fishing
and dining options, this facility was top notch. The golf course is
ranked second in the state and our fishing guide was none other than
Casey Scanlon, a Bassmaster Elite Series Pro who lives on the lake.
If you want to treat yourself to something special, this place was
amazing – really! After checking in, we enjoyed one of the best
meals we've had in a long, long time in the Trophy Room – fine
dining at its best. Accolades came pouring out after that meal from
all four of us.
Bright and early the next morning, Scanlon picked Joe and me up at
sunrise to fish the lake. This is his home waters and he won the
Bassmaster Open on nearby Table Rock Lake a few years ago.
Originally from Kansas City, he's been fishing the Elite Series for
five years now. In fact, he had just returned from the Elite Series
event on Cayuga Lake in New York in June.
"This is a great body of water to fish," said Scanlon as he reeled
in his first fish, a largemouth, five minutes into the trip. For
this time of year, large rubber worms on a jig head was a favorite
enticement. "The lake is over 90 miles long, great for largemouth
and spotted bass. My favorite time is November and December when
spinnerbaits and top waters work the best. April and May is also
excellent when suspended jerk baits will dominate as a favorite
technique. To give you an idea about how this lake fishes, it
consistently takes 20 pounds or more per day to win a tournament
here. There are lots of three and four pounders here and you can
catch fish up to and over 10 pounds. In fact, two 10 pounders have
been weighed in already this year. Fishing has really been great
this season because of the added water flow coming through the
system because of the heavy rains earlier."
Almost on cue, Calvert's rod doubled over and he fought a monster
under Scanlon's Nitro Bass Boat. When it finally came to net, it was
over four pounds – Joe's personal best. After a couple of quick
pictures, we released the fish to fight another day.
Primary forage in the lake for these bass is gizzard shad and the
preferred food source. There are also threadfin shad. An underrated
fish in these waters is walleye … and no one fishes for them. If
someone came in here and targeted walleye, the potential is very
good. Night fishing could be a way to approach old marble eye, but
there may be some competition. Because the lake has turned into a
recreational playground for watercraft during the middle part of the
day, some bass tournaments are now being held at night to deal with
the mid-day turbulence and battle the heat. Heat index during the
hottest part of the day would hit over 100 degrees and one day it
hit 108. It didn't stop us from enjoying ourselves though.
Back to the hotel for breakfast and check-out. Again, we didn't want
to leave. Next stop on our Ozarks experience was Holiday Shores
Resort
www.holidayshoresresort.com ), another quality experience but
entirely different from the other two accommodations we sampled.
Owner Lori Piedt runs an excellent operation, featuring 26 cottages
overlooking the lake at Osage Beach. It was like living in an exotic
fully-equipped tree house for a few days! Again, the facility was
well equipped as a one stop shop for families to enjoy the waters of
the lake or relax in the uniquely-shaped cottages. Every cottage has
an outside deck with a grill and one night we cooked up burgers as
the sun set. What a relaxing time.
Holiday Shores offers visitors the opportunity to rent one of its 20
covered and fully electric boats slips at a nominal price. There is
a boat launch available for guests if you bring your own boat or jet
ski. They also rent paddleboards, paddleboats and chill rafts. There
is a swimming pool or you can take advantage of a swim dock in the
lake. Our last part of the trip will wind down next week … with a
personal best largemouth bass! Check out the Ozarks Convention and
Visitor Bureau's website at
www.FunLake.com ; 1-800-FUN-LAKE.

SUNDAY JULY 21 2016…..Part l
Lake of the Ozarks Region Offers Water Sports,
Family Fun and Mor
* "There's a beauty in the river
There's a beauty in the stream
There's a beauty in the forest at night
When the lonely nightbird screams
And there's so much time for singin'
And so much time for words
There's so much time to listen
And so much time to be heard"
*Ozark Mountain Daredevils
Growing
up in the "Land of the Ozarks" had to offer a certain amount of
inspiration for the band Ozark Mountain Daredevils. After a
recent visit to Central Missouri, we could certainly relate to
those lyrics. We could even add a verse or two of our own as we
spent a week in and around the Lake of the Ozarks – the largest
manmade lake in North America. The state motto – "Show Me" – was
fulfilled time and time again …
It started with a gentle prodding by Marjorie Beenders, a
tourism maven in the state who kept asking when we were going to
come and visit … every time we saw her. After doing a little
research on the lake and the region, we couldn't take it any
longer. We graciously accepted her invitation to check out "the
best recreational lake in the nation." That was after a national
vote conducted by two separate groups – USA Today and 10Best. It
would live up to its name.
After a week that was jam-packed with activities, where do you
even start? At the beginning of course! We left Lockport in a
2016 Chevy Tahoe LTZ packed to the gills, picking up Joe and
Laurie Calvert of Oregon City, Oregon at the St. Louis airport
along the way, adding even more luggage. The drive from New York
was roughly 17 hours and it was a comfort ride all the way. We
were impressed with the various alerts on the vehicle including
the blind side zone that flashed warning in our mirrors and gave
us gentle vibrations whenever some threat became available on
the road or in parking lots. More on the vehicle later.
We arrived at Lake Ozark and our first destination, the Alhonna
Resort and Marina
www.TheAlhonnaResort.com in the middle of a
thunderstorm. It had been so long since we had seen rain, we
didn't mind the drops as we hurriedly unloaded the vehicle.
Timing is everything as the rain stopped long enough to finish
the job. After a great breakfast outside at the in-house
"Bobbers" Restaurant, we headed out to Willmore Lodge
www.willmorelodge.com
) at Bagnell Dam – where it all began for Lake of the Ozarks.
Along the way, we continued to find New York connections, like
the fact that this lodge was an Adirondack-style lodge that was
now a museum documenting the formation of the lake back in 1931
(a lodge built in 1930).
The dam (that created the lake) was actually built from 1929 to
1931, employing some 40,000 people along the way – at a time
when the country desperately needed it. Workers from every
state, as well as from 9 countries, were employed, making it the
largest and last major dam in America built entirely with
private financing. To make this project happen, 22 different
towns and villages had to be destroyed and relocated.
Approximately 30,000 acres of timber land had to be cleared.
Over 900 miles of fences and numerous buildings had to be
removed. A total of 32 cemeteries were moved to higher ground
along with other scattered graves.
When the dam was finally completed, the Osage River provided
most of the water. It took three months to fill up. The end
result was a lake that was 94 miles long, providing 1,375 miles
of shoreline. Average depth is 60 feet. It is almost entirely
privately owned as far as the shoreline is concerned, allowing
residents to build properties within a few feet of the water.
Alhonna was a good example of that, allowing us to sit on a
porch overlooking the water … and fish if we wanted to. In the
neighboring cabin, we watched them fish off a similar porch and
reel in bass and bluegill on a consistent basis.
After a little driving around to get our bearings, we headed
back to Alhonna to take a paddleboat out for a couple of hours.
Joe and I opted to not take fishing rods for this trip because
of the funny looks we received from the ladies when we mentioned
trolling. We also made arrangements to take out a fishing
pontoon boat the next morning to really get a feel for the lake
from the water and do a little fishing along the way.
The next day started with another breakfast at Bobbers following
by gathering up all the gear for the pontoon boat ride. Since it
was early morning, the lake hadn't really come alive with
activity yet. It was peaceful as we motored 10 miles up the
lake. As I rigged up a rod for Joe, I sent a crankbait toward a
downed tree along the shoreline – explaining the use of the
spinning rod along the way. It took about 15 seconds to catch my
first fish, a nice largemouth that hit a new Berkley bait that
mimicked a small shad, the top forage in the lake. It proved to
be the winner for the daily scratch-off contests that filled our
time in Missouri.
We motored to different areas around the lake, hoping to find
some active fish along the way. Magnificent homes stood out as
sentinels to the lake. We all agreed it was a beautiful area
with lots of potential. It should be on everyone's bucket list
of places to visit. In fact, Sandy went so far as to say that if
we won the lottery, we would be getting a home here.
Alhonna
Resort has everything you need to spend some quality time
with family and friends. The facility offers up a full service
marina with over 25 rental boats – everything from bass boats
and pontoon fishing boats to ski boats, pleasure pontoons and
deck boats. Non-motorized water craft is also part of the mix
including kayaks, paddleboards and the paddleboats we sampled.
In addition, there's a nice pool both indoors and out to cool
off in – something we needed for the week we were there. And if
you show up when the weather is a little cooler, they even have
an enclosed fishing dock with wood stoves! It seems as though
Mike and Sheryl Elia have thought of everything in the 37 years
that they've been running the operation. Our cabin made us feel
right at home with a full kitchen and more. It was both clean
and comfortable. The hospitality was top notch.
Our final evening at Alhonna was a light show offered by Mother
Nature herself as a spectacular lightning display lit the skies
all around us. Three nights went much too quickly and we wanted
to stay longer … but like we mentioned earlier, we were just
scratching the surface. It was time to move on. We'll continue
with part two next week. In the meantime, check out the Ozarks
Convention and Visitor Bureau's website at
www.FunLake.com ;
1-800-FUN-LAKE. We were singing our way to the second phase of
our journey …
SUNDAY SPECIAL
06/0512

New York's 1000 Islands – Food for Thought for
Vacationing
<<<
Early A room with a view … from the hotel at first light
It was time to revisit the 1000 Islands again. This favorite area
has been filled with outdoor memories since I graduated from high
school. Camping and fishing top the list of past activities, but the
list of things to see and do have expanded over the years. The
Thousand Islands Region of New York State has a long, storied
history as a premier vacation destination – combining a picturesque
setting with a lengthy tradition of outdoor enjoyment, especially as
it relates to the St. Lawrence River as it carries the fresh water
from the five Great Lakes out into the Atlantic Ocean. While the
past may conjure up a mystique of monster muskellunge and a bonanza
of bass and other fish species, it is what the present offers that
helped enhance a recent visit to Clayton this spring – based out of
the amazing Thousand Islands Harbor Hotel for a second time. What a
difference from tent camping over four decades ago!
The new hotel was outstanding yet again

www.1000islandsharborhotel.com , offering up 105 deluxe guest
rooms and suites to visitors to the area. The facility was designed
in such a way that a majority of the rooms face toward the majestic
river. My favorite aspect of the hotel was the Riverside Patio that
even allowed for a meal despite a little cooler temperatures … and a
perfect place for a sunset. Open air gas fire pits burned brightly
in the fresh air as we relaxed and sampled some great food options.
Throughout this Hart Hotel complex, there were pictures of "the good
old days" that reminded guests about those times gone by – but not
forgotten. The Clayton area is one that remembers its roots very
well, a lesson we can all learn from. All visitors have an
opportunity to learn about the rich history the area offers.
One of our side trips was an afternoon casting some new Yo-Zuri hard
baits at Lucky Star Lake, a standout attraction at Lucky Star Ranch
in Chaumont, just a short drive away from historic Clayton. This
2,000 acre wildlife preserve offers both hunting and fishing for
customers. Angling action takes place on a 100-acre lake that's
loaded with bass, pike, crappie and other panfish. We were greeted
by "Bird," a friendly black lab who lives for retrieving. While her
specialty is rocks and dropping them on your feet (steel-toed shoes
are advised), this time around it was sticks. The first one was over
8 feet long and difficult to throw. We broke off a smaller piece and
started the process of throwing to Bird. My wife Sandy and I
alternated stick-tossing with casting and my better half did great
reeling in largemouth bass that kept her busy. I was keeping Bird
busy … or maybe it was the other way around. Either way, we had a
great time outdoors that left my wife saying, "When can we go
fishing again?"
Lucky Star (
www.luckystarranch.com ) was recently acquired by Otis
Technologies ( www.otistec.com
). Doreen and Jody Garrett were wonderful hosts. This was a company
that was started by Doreen when she was just 16 years old. For those
of you not familiar with Otis, it's main focus was on firearms
cleaning – a low cost, lightweight and efficient gun cleaning system
that you can take into the field with you should you encounter a
mishap … like she did all those years ago when she was hunting with
her father. The company, based out of Lyons Falls, NY has many more
products and the newest focuses on hearing protection. One example
is the new Ear Shield. The Sound Reduction Chamber Technology does
not require any kind of batteries and it does everything you need to
protect your ears. I think they would be great around the house,
too, for my wife when she is mowing the lawn or using the chain saw.
A second form of hearing protection was called Flugz. They are
form-fitted ear plugs that you perform the work yourself – easily
and efficiently – to personalize the reasonably-priced plugs to your
own ears. Check these things out because there is something there
that will work for you … and your wife.
Back to the fishing. The St. Lawrence River has a long, storied
history with angling. This is the place that Arthur Lawton caught
his impressive 69 pound, 15 ounce muskellunge back in 1957 – a
record that still stands today in the Empire State. On this weekend,
it was the opener of walleye and northern pike. However, this area
is also more laid back than many tourist destinations as far as the
guiding community. When I contacted Allen Benas with 1000 Islands
Fishing Charters, he didn't have his boat in and he couldn't find
anyone else that did either. That's not to say there isn't good
fishing available this time of year. There is. For walleye, some of
the best action is around the horn near Henderson Harbor and around
the mouth of the Black River. With the Lake Ontario Counties Trout
and Salmon Derby going on at the time, anyone targeting walleye will
need to fish there if they want the best chance to win. In fact the
winner was an 11 pound, 14 ounce 'eye caught from there on opening
day. Check out www.loc.org to
see the final leaderboard.
Local wineries are making a name for themselves, too. This time
around it was the Thousand Islands Winery (

www.thousandislandswinery.com ) that we took a taste of. If you
like dry whites (to go with your seafood of course), you'll want to
sample their Chardonnay, Pinot Grigio or semi-dry Riesling – all
approving to our palate. There are many other things to sample
there, an operation in the shadow of the 1000 Islands International
Bridge.
An important part of all my getaways – short or long – is the food.
Anyone who knows me knows that I like to even use dining
establishments as important waypoints and landmarks for giving
directions or to know where I am at all times. This time around was
no different, starting with The Clipper Inn in Clayton. This was a
fine dining establishment that I've never had the pleasure to
sample, a restaurant that has been in the Simpson family for 35
years. However, the Simpson family is native to the 1000 Islands
area and goes back even further. Mary was our waitress and she gave
excellent recommendations, starting with our Seafood Pate appetizer
and on to our entrees. My salad was slathered with, of course, 1000
Island dressing. I had a king crab and Delmonico steak combo that
was to die for; Sandy had a Boston cod that was exquisite. As is
usually the case when the food is this good, I ate way too much. If
you are in the area, this comes highly recommended. Check out
www.clipperinn.com . You
will need reservations.
Our Saturday evening dinner was also exemplary, with the icing on
the cake being on the water as the name suggests: Channelside. The
view is mesmerizing; the food very good. We started things out with
some Channelside Chips that were reminiscent of nachos, but with a
personalized touch/flavor. We also had Bang Bang Shrimp that was a
great treat. Dinner was a perch dinner for me and a haddock fish fry
for Sandy, both would have left us begging for more … if we could
have finished both. Another must-eat location and you can check it
out at
www.thechannelside.com . Our waitress was Lori, also a great
server. This can make or break a meal no matter how good the food
is.
Breakfasts were at the Koffee Kove Restaurant where owner Laurie
runs a tight ship with more good eats. While muskellunge fishing was
out of season, the Musky Breakfast wasn't. Give it a try. The
Everything Omelet was their version of a garbage plate that was also
very appealing if you have a hearty appetite in the morning. They've
been around for 44 years so they must be doing something right. We
love finding new restaurants that we can find our way around town
by. And let's not forget the 1000 Islands Harbor Hotel either – more
good food to chew on if you want to stay close to your lodging.
No stop would be complete without a visit to the 1000 Islands River
Rat Cheese shop. Their aged cheddars are scrumptious and there's
always something new that ends up in our cooler for the trip home.
The fresh cheese curds are to die for (at least if I listened to my
doctor)! To see the wide selection of products go to
www.riverratcheese.net .
This is only the tip of the iceberg (lettuce – with Thousands
Islands dressing of course) when it comes to what the area has to
offer. You can find out more offerings at the Chamber of Commerce
website at www.1000islands-clayton.com. This area is also part of
Jefferson County, featuring other locations like Sackets Harbor,
Henderson Harbor, Watertown and Alexandria Bay. Ask for a travel
guide at
www.visit1000islands.com or by calling 800-847-5263. I can
think of thousands of reasons to spend more time there, making
return trip after return trip!

---

Federation Recognizes Conservation Stewards; Dinner
Set

The Niagara County Federation of Conservation Club, representative
of some 27 different clubs and organizations involved with
conservation, fishing, hunting and the shooting sports, takes the
time out every year to seek out people and groups for their stellar
efforts in making our outdoors a better place; protecting our
natural resources; protecting our Second Amendment rights; serving
sportsmen and women behind the scenes. They are not looking for
recognition. These are individuals and groups who go above and
beyond the call of duty. This is not the column that goes into
detail, this is the initial acknowledgement that lets people know
who the winners are for the Niagara County Federation of
Conservation Clubs.

In the past, we would select the winners and it would be a surprise
during the banquet. However, after much discussion, we decided to
let the people know in advance so that they could inform their
family and friends to let them know about the recognition. It gives
the clubs an opportunity to show their support for a deserving
individual, too.

That said, here are the winners for 2015. If you know any of these
people and you want to come out and share in the celebration, you'll
first want to mark April 16 on your calendar. Social hour starts at
5:30 pm; dinner starting at 6:30 pm. Deadline for registering is
April 2 and there will be no tickets available at the door – advance
sales only. The site for this year's banquet will be the Terry's
Corners Volunteer Fire Company hall located at 7801 Chestnut Ridge
Rd., Gasport. Contact person is Dave Whitt at 754-2133 for securing
your tickets in advance. And the winners are …

Oliver Jones Memorial Award (Sportsperson of the Year) – Joel
Winters, Hartland Conservationists Club.

Leroy Winn Memorial Award (Club of the Year) – North Forest Rod and
Gun Club, Lockport.

Carl Lass Memorial Award (Youth Program of the Year) – Jim "Bruno"
Burnett of North Forest Rod and Gun .

Pinky Robinson Memorial Award for dedication to Great Lakes fishery
– Dr. John Whiteman, Niagara River Anglers Assn.

James Reed/Donald Meyer Memorial Award (Firearms Hunter Safety
Training Instructor) – Ron Meegan, Tonawanda (a member of the
LaSalle Sportsmen's Club and Wilson Conservation Club).

Steve Fountain/Archie Lowery Memorial Award (Archery Hunter Safety
Training Instructor) – Dave Faccini, Town of Niagara (a member of
the LaSalle Sportsmen's Club).

Ken Berner Memorial Conservation Award (to the person, family or
organization dedicated to conservation) – Paul Dewey of Lockport for
his BOCES Conservation Program.

John Daly Memorial Award (Legislator of the Year) – Niagara County
Sheriff James Voutour.

Victor Fitchlee Memorial Award (Lifetime Achievement) – Retired
Environmental Conservation Officer James Rogers of Grand Island.

President's Award (selected by 2015 president Doug Walck) – Dave
Kern, Sr. of Lockport.

John Long, Sr. Memorial Award (Top Business or Businessperson) –
Myles Tool of Sanborn.

There will be other award winners that will be honored on the Don
Bronson Memorial Conservation Wall of Fame (located at Cornell
Cooperative Extension Niagara in Lockport). Get out there and
support these unsung heroes of conservation. We'll have a full write
up of their accomplishments in the April 17 column right here. On a
final note, we are just scratching the surface as far as recognizing
people behind the scenes. Like the NY Lottery, you have to be in it
to win it and every single club in this county should be nominating
at least one individual every year for at least one category. Keep
that in mind moving forward. Now it's up to pay homage to the
current winners – all well-deserving!

---
---
---
---
Making Dream Come True with Hunt of Lifetime

As
the saying goes, when life throws you a lemon, the best way to
approach it is to make lemonade. For Leah Manth, a freshman at
North Tonawanda High School, her lemon if you will is a rare
neurological disorder called Neurofibromatosis Type 2 (NF2). She
is lacking a protein and as a result she develops tumors along
her nervous system. She has several tumors on her brain and
al
ong her spine currently and just in the last five years she
has had to deal with eight major surgeries. She has partial
hearing loss and some facial paralysis. It's a hardship no one
should have to endure, let alone a young lady entering the prime
of her life. She's a fighter, for sure.
Leah is a member of the Junior Honor Society, Varsity Cross
Country, Varsity Indoor Track, Varsity Outdoor Track and the
DECA Club. She loves school, arts and crafts, playing games,
running and triathalons. She also loves to hunt and fish. This
is a story about Leah and a hunting adventure that she was able
to go on this year thanks to an organization called "Hunt of a
Lifetime."
"Hunt of a Lifetime" is an organization that was formed out of
necessity. When Matt Pattison of Pennsylvania turned to the Make
a Wish Foundation to fulfill a dream of enjoying a moose hunt
with this father, he found out that the organization didn't
grant wishes involved with hunting. Matt's mother, Lisa,
literally took matters into her own hands and was able to put
together a hunt of a lifetime – a moose hunt in Alberta, Canada
– thanks to donations from a long list of giving individuals.
Six months after his hunt, Matt passed away … and his mother
took up the cause of forming HOAL. That was 1999.
Hunt of a Lifetime ( www.huntofalifetime.org
] has been helping
terminally-ill children fulfill their dreams since that time, be
it a hunting or fishing adventure. Leah's father, John Manth, is
a high school teacher at Erie BOCES 1 and last year he was made
aware of HOAL when one of his students received an elk hunt
through the organization. It came highly recommended so Manth
took it upon himself to fill out the paperwork with Leah to try
and go on a hunt in Quebec for caribou and black bear. They were
granted their wish earlier this year.
The end of August saw John and his daughter, along with his 16
year old son Chris (and Leah's brother), make the trip to Leaf
River, Quebec – the farthest north that the province allows for
outfitting. Their outfitter was Leaf River Lodge and their guide
was Remi Laprise, a weeklong adventure into the Canadian
wilderness.
"The hunt was more than just a hunt," said Manth, "it was an
adventure for the three of us. We drove from North Tonawanda to
Montreal where we boarded a plane for the first leg of their
journey." Rough weather forced them to wait three hours before
they took a float plane for the last three hour leg to Leaf
River.
The first step was to sight the guns in and, after several weeks
of practice with a Savage Arms .270 that was donated to her from
the company, young Leah hit the bullseye first time out to prove
that she was ready for the hunt – outshooting the other hunters
who were participating in similar hunts through this outfitter.
Game on!
---
++++++++++++++++++++++++++++++++++++++++++++++++++++++++++++++++++++++++++++++++++++++++++++++++++++++++++++++++++++++++++++++++++

The Outdoor Beat show airs on Channel 22 in Niagara County. It also
airs in Erie County. If you don't have Time Warner Cable you can go
on the website at www.lctv.net to watch it live simulcast or you can
check the On Demand section of the website in a day or two to see
this show and any of the other Outdoor Beat episodes. The 4 pm shows
also air on 90.5 FM if you want to catch it on the radio.

---
---
---


Our Leaders remembered – Outdoors Niagara
Exclusive


Curt Meddaugh VIP – Remembered

MAY
23 2010
LOTSA Pen Rearing Project Complete,
Leader Passes On
In a recent correspondence from Curt Meddaugh
[Pictured] of Pendleton,
project leader for the Lake Ontario Trout and Salmon Association's
salmon and trout pen rearing project out of Olcott, you could read
between the lines – he was excited by the results of the 2010 effort of
rearing salmon and trout in the Town of Newfane Marina. Of course, when
he reported on the project at the Niagara County Fisheries Development
Board meetings, he was like a little kid –visibly excited when he
updated everyone at the April meeting – so it was easy to read between
the lines. To him, these were his babies and he was the proud papa.
That said, he was always quick to give credit where credit was due. He
would constantly recognize the many workers that made things happen,
with the end result being much improved growth and increased survival
for these fish once they were released in the lake. The steelhead
arrived at 29 fish per pound. Those same fish were released three weeks
later at 16.5 fish per pound. Three pens full of Chinook salmon arrived
in Olcott at 140 fish per pound. When they were released into Lake
Ontario, they were at 68.5 fish per pound, more than doubling in size in
just three weeks time.

His constant reminders, updates and organizational notes helped to keep
the work force and media informed. His final instruction for the project
was organizing the pulling of the pens and the final clean up of the
netting … until next year. For Meddaugh, though, his job complete for
this year, he would not return. He passed on to a much bigger project
last Saturday when he died quickly, quietly sitting in his chair at
home. He was only 59, much too young for the plans the fishing community
had for him; and the plans his wife Mary Lou and their family had. It
came as a shock for all. Even though he had a brief history of heart
problems, he was feeling good and loving life.
At the memorial service, it was evident two things were his biggest
loves – family and the water, with a big focus on fishing. Joe Yeager,
one of the LOTSA leaders, pointed out all the things that Meddaugh meant
to the club: "You name it, he was involved with everything fish-related
when it came to Lake Ontario. He was the guy that always took the time
to make hatchery trips, attend meetings like the Lake Ontario
Sportfishing Stakeholders group, the county Fisheries Board, State of
the Lake and more – and then report back to his club. He was responsible
for rallying the troops when DEC needed additional eggs for the
hatchery, organizing volunteers at 18 Mile Creek in Newfane. He loved to
teach kids how to fish and was involved with the kids fishing program
for LOTSA for the past seven years. Through his direction as club
membership secretary, membership grew from 25 to more than 250. He
played a major role in the club's Salmon Spectacular, raising money for
the pen projects. His most important contribution was with the pens. He
was the member who stepped up and took full responsibility for this huge
project and turned it into a success."
When an issue came up, Curt would research it thoroughly so that he
could speak knowledgeably. And with everything, he was passionate about
things that could impact "his" fishery – positively or negatively. He
was just as passionate about family and friends. When I was subjected to
a couple hospital stays last fall, he would call to find out how I was
doing – sincerely concerned over my well being. If work needed to be
accomplished or a meeting needed to be attended, Curt was always willing
and not afraid to get involved or share an opinion. There are no
replacing guys like Meddaugh. They are the ones that truly make a
difference while they enjoyed their time in this world…and we are better
for it. He's enjoying another world for sure right now. We'll miss you,
man!
---
OUR VIP'S
Ognibene Didn't Pull Any Punches
The passing of 84 year old Joe Ognibene of Grand Island marks the end of
an era for sportsmen in Western New York. He passed along his stories,
insights, outdoor knowledge, commendations and criticisms for over five
decades – through his printed words, photographs and, for many years, on
television through his "Outdoor Scene" cable show.
Ognibene told it like it was – in his eyes anyway. He didn't pull any
punches. He once told me that his newspaper reporter mentality helped
him to dig a little deeper, play devil's advocate and stir a little
controversy to keep people on their toes. Whether it was giving the New
York Bowhunters a left hook on the crossbow issue or giving an animal
rights group a quick jab on some stupid stand, Ognibene let his feelings
be known. If he didn't like something, you knew it … and so did they.

"Joe was proud of the fact that he was the first person to plunk down $5
at Mark's Tackle so that he could be the first member of the newly
formed Niagara River Anglers Association back in 1982," said Mark Daul,
proprietor of Mark's Tackle and one of the early cornerstone of the NRAA
concept. "My brain is filled with Joe O. stories, like the time we were
fertilizing the NRAA walleye ponds and he drove right into the pond with
his four wheeler! Or another time he was putting a new rod tip on a
guy's rod at my tackle shop and he was heating the tip with a match.
However he heated the tip a bit too much and melted the end of the
customer's rod right off – in front of him! But it was okay because Joe
Ognibene did it. We were great friends and we did a lot of things
together. They were the best times I ever had in my life. It was great
to be with a straight and honest guy."
Bill Hilts, Sr. of Sanborn worked alongside Ognibene for many years,
also as an outdoor writer. He made these comments: "Joe Ognibene really
covered the outdoor scene when he was the outdoor scribe for the Niagara
Gazette . He hunted and fished with a passion and carried that passion
to the pages of the Gazette and into his popular TV show. I was proud to
call him a friend.
"My most memorable story was several years ago he planned a fishing
outing to Lake Temagami in northern Ontario and he was having trouble
with his outboard motor. He called me to see if he could borrow one of
mine and I had a 25 horsepower outboard which I offered to him and he
eagerly accepted. Well, as the story goes, the group traveled quite a
distance in the remote portions of the Temagami wilderness and in the
process hit a rock pile – knocking the lower unit off the engine. With
no power, they had to dive in the chilling waters in order to recover
the unit. They were successful, but how to reattach it to the rest of
the engine?
"They found a nut and bolt in someone's tackle box and reattached the
unit and got the engine running. They were in the middle of that huge
lake when suddenly the boat stopped moving. Yes, the bolt did not hold
and the unit was lost in one of the deepest parts of the lake. Diving
for it was not possible. I understand the Canadian Mounties were
notified and they had to come out and rescue the Ognibene party.
"A few days later, Joe pulled into my driveway and returned the motor,
which was much lighter than when he left, minus the entire lower unit.
In fact, the motor was in pieces in a bushel basket. He didn't even
leave me a few fish to fry up." It was okay because he was Joe Ognibene,
though. He's still laughing.
Joe Urso of Niagara Falls served as president of the NRAA for 10 of the
years during the Ognibene era. His most memorable Ognibene moment was
when he was involved with filming one of the "Outdoor Scene" shows
focusing on walleye in the lower Niagara River.
"I was fishing with Ron Stella at the time and Larry "Catfish"
Garabedian was helping Joe O. by operating the camera boat. The first
day of fishing we managed to catch a few walleye to give the NRAA
rearing ponds a plug, but right in the middle of the filming, Joe's
camera starts smoking. I mean, the camera really fried! I thought it was
going to start on fire. The show came out great, but there were so many
things that happened that all helped to make it more memorable, like the
food smorgasbord that Stella always put together on his boat or Catfish
jumping in the water for a swim right in the middle of filming because
he was hot. I guess the point that I was making was that Ognibene was an
every man's kind of guy. Not everything was perfect, but he got the job
done. We will miss him."
Frank Campbell of Niagara Falls, a former NRAA Board member and current
chairman of the Niagara County Fisheries Development Board, grew up
watching the "Outdoor Scene" and reading his columns every Sunday. "His
favorite phrase on the show was 'that's about as nice a fish as you
could ask for' and it didn't matter what kind of fish it was. Joe made a
huge impact on not only the local scene, but the rubber tire market as
his cable show reached out to places like Syracuse, Pittsburgh and
beyond. He helped to create awareness for the fantastic resources that
we have here on our doorstep."
Yes, Joe was a popular guy (and not so popular with some special
interest groups) on the local front, but I remember at outdoor shows in
Syracuse and Pittsburgh, time and time again people would stop to stare
at a picture of Joe Ognibene holding up a fish that I had on my booth
back drop. "Do you know Joe Ognibene?" they would ask me in awe. And
when they found out we were friends, they would be in amazement. We
really didn't see the impact he had on our area as a whole.
Like him or not, Ognibene had a huge impact on the outdoor fraternity.
He dedicated the better part of his life through his communications to
this group. I liked him and respected him. He will be missed my many,
including me. Happy trails, Joe!
---
Mudge Passes On – 12/19/09
We lost another one of the good guys. Bill Mudge of Gasport died earlier
this month unexpectedly. From the standpoint of supporting our Second
Amendment rights, our county didn't have a bigger supporter. He was up
on every kind of gun legislation through the Shooters Committee On
Political Education (SCOPE) and was always giving the Niagara County
Federation of Conservation Clubs updates on what was happening locally,
statewide and what was happening nationally. He was an active member of
the Iroquois Arms Collectors Association, the National Rifle Association
(and supported the local Friends of the NRA group), the Parker Gun Club,
the 3-F Club and was the current recording secretary of the county's
Federation. He was a true volunteer in every sense of the word, someone
you could count on to help when there was work that needed to be done.
There's no replacing a guy like that. We'll miss you, Bill!
---
Vince Caterina Dies at 84 –


Another outdoor icon has passed on. Vince Caterina of Niagara Falls,
proprietor of Rapids Gun Shop for over 50 years, passed away recently.
Local shooter Mike George of Niagara Falls recalled purchasing his first
gun from him and was also instrumental in purchasing his house on Cayuga
Island. "Vince was influential in getting local sportsmen their first
firearms for shooting or hunting," said George as he reminisced. "He was
a bombardier with the 501st Bombing Squadron and a life member of the
National Rifle Association. We can't replace guys like these. He will be
missed."

Tom Brown Passes On


Downtown Tommy Brown of Ransomville passed away recently, a regular
fixture in the county's Niagara River charter fishing fleet for many
years. He was owner and operator of Sea Sprite Charters, a daring guide
who would take some adventurous steps to get his customers fish. He was a
past president of the Fin-Feather-Fur Conservation Society in Lewiston, as
well as a long time member. He will be missed.
Writer Ken Sprenger Passes –
Long time outdoor scribe Ken Sprenger of North Tonawanda passed away
on Sept. 25, a columnist for the Lockport Union Sun and Tonawanda
News for many years. He was 87 years of age. He was a member of the
New York State Outdoor Writers Association since 1970 and was also a
member of the Outdoor Writers Association of America. I have fond
memories of "Uncle Ken" as we traveled the country together
attending OWAA conferences in places like Saskatchewan – the Hilts
family and the Sprenger family jockeying for position as we camped
across the U.S.
On the local scene, he was a founding member of the Niagara County
Fisheries Development Board and a former president of the Niagara
County Federation of Conservation Clubs. He was also a special
Conservation Deputy with the county's Sheriff's Department. A
lifetime member of the Tonawanda Sportsmen's Club, Sprenger was all
about the shore fisherman. He was their champion as he fought for
access and special consideration when it came to casting from the
bank or pier. May he rest in peace … with a rod in hand, casting
from shore alongside Peter the Apostle … the fisherman.
McMurtry Passes –


The sportsmen's and conservation community lost another leader
this past week with the passing of Carl McMurtry of Youngstown.
A lifelong outdoorsman, he was an active member of Ducks
Unlimited and the Three-F Club, as well as the Niagara River
Anglers Association. He was an accomplished craftsman, too,
carving wood to near perfection as it mimicked fish and birds –
two of his passions in life. Whenever I saw him in a room, he
would always find the time to come over and say hi. We'll miss
his smiling face here, but I'm sure he will still be smiling as
he looks down on us from above. He was one of the old timers and
there's no replacing these important individuals from a bygone
era. Condolences to the family.
---

Go to Hilts Weekly Weekend Fish
Locator page…Updated every Friday on this website


CAPTAIN DOUG STEIN REMEMBERED 1947-2009
---
Back to Home Page /
Back to Hilts Jr. Friday Weekend Fish
Locator /
Back to top /
See mini-index below
HOME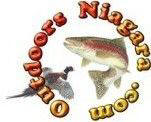 Be
sure to vote in our NEW mini-poll
Most informative and up to date
outdoors website on the planet

Featuring Niagara
River, Lake Ontario and Lake Erie Fishing Local Hunting. Also featuring up to the minute fishing reports,
Niagara fishing tips, conditions,
Live Lake web cam, and regular updated forecasts.

Fresh almost daily! Be
sure to bookmark us!


"Never outdated ~ Always updated"
Go to Hilts Weekend Fish Locator
/
Go to Bill Hilts Outdoors Weekly
Column /
Go to Joe Ognibene's "Outdoor Scene"/
Go to Will Elliott's "Fishing
Line" /
Go To Bill Josephs "Straight From the Field"
Go to Mike Gillis "Outdoors in Niagara Experiences"
Bob Confer's Outdoors

Visit Outdoors Niagara Ice
Fishing pages for local information –

Read the tips from the experts
including the Iceman Dave Genz HERE

Visit
the ice fishing pages and Wilson Harbor Ice Fishing Contest Results and
Pictures here
---