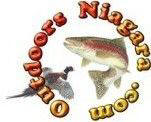 Don Supon - Hunter - Fisherman
Outdoors Niagara exclusive!
---

Don Supon

Don Supon is an avid hunter and fisherman, retired and highly active. The pictures below are pictures taken at his camp in the Southern Tier recently. Don has a great appetite for protecting his local deer population and even put a lot of work into tilling a patch of his property to grow feed corn for the deer come hard times for these creatures, making sure they have enough natural feed to eat. The camera used is a motion activated one like the one advertised on outdoors shows on television. Manufactured by "Cuddeback" they sell for around $300.00 and the clarity is suburb as you can see in the pics, including nighttime shots.

Supon has also built a fair sized pond on his property in the hopes of raising bass and allowing other wildlife to feed by. The pond is spring fed and and the ponds baitfish population is bolstered up every year with fresh stocking by Don.

While hunting is one of Don's favorite past times he is also deep into fishing. Salmon & trout with his fully equipped boat is one challenge while he is just as happy to be fishing for bass or walleye or even casting a line for yellow perch somewhere.
---
"The "spot" is one I created for hunting purposes, the camera tells me what is going on and when. Those particular animals are safe from me for a few years until they grow up. But my property is small and I can't protect them. Most guys would take them if the opportunity presents itself."
The pictures here tell their own story - more pictures at the bottom of page - Coyote - Bear - Turkey - Fawns
More Pictures at bottom of this page

Listen to the turkey sounds at bottom of this page!

"The bear is at one scrape looking up at
an overhead branch I put there that has scent on it" ds.
Make sure your speakers are on!
CLICK ON PHOTOS FOR A BIGGER PICTURE!
| | | | | |
| --- | --- | --- | --- | --- |
| Curious Coyote | Thanksgiving Turkey anyone? | How about bear meat for Christmas? | Nosey Fawns | Smile! |
Don's camp is located in Wirt N.Y., just north of Bolivar & Richburg and just off route 275.
---
"Be an Outdoors Niagara Booster"
---