Sturgeon
---
OUTDOORS NIAGARA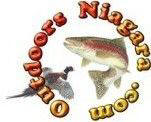 "It's Yours, use it, protect it, share it."
"Niagara's Premier Outdoors Website"
---
Outdoors Niagara Exclusive!
The photos on this page were forwarded by Bill Hilts Sr. Photos sent by Bob Bucholz.
His friends caught 5 sturgeon, north gap, Buffalo harbor,
on May 23 2009 on worm rigs while fishing for walleyes and bass.
Notice Buffalo Skyline & harbor break wall in the background. [Lake Erie waters]
[See sturgeon statement below on this page]
---
Sorry, if you came to this page through a search,
the pictures on this page were removed at the request
of Gabriel Edwards in conjunction with his email posted here in the box below
This posting dated April 8 2014
---
Gabriel Edwards <[email protected]>
12:49 PM (2 hours ago)

Mark,
I came across your web site and the pictures attached (http://www.outdoorsniagara.com/sturgeon.htm).

I did not give anyone permission to post these pictures nor did Josh Kane whom is also featured. Being that Josh and myself are the two pictured in your site with no permission given (I don't even know Bob Bucholz) I am kindly requesting that you take these down immediately.

Please respond and let me know that you have received this letter.

Thank you,
Gabe Edwards

MY RESPONSE:
First thing you did wrong is threaten me with a lawyer. YOU know that's B.S, your buddy Josh does, and your other friends around you know it is too. It's the same old 'lawyer prank'..... "If this request is not met I will involve my lawyer." Grow up kid, life is too short.
Mr. Edwards, as far as I'm concerned, those photos were/are public domain as I received them by email which is public domain. The pictures as stated were taken by one/first party as stated in the caption above, and forwarded to another party then ended to me, making me a third party to which I posted on the Outdoors Niagara website in an ongoing effort of promoting fishing in our Western New York area waters.
EDWARDS, I WOULD SUGGEST YOU GO TO YOUR LAWYER AND ASK HIM, GET ONE OF THOSE FREE LAWYERS THAT WILL GIVE YOU YOUR FIRST VISITATION FOR NOTHING.
You can take this as my response, This page should have been taken down years ago because it is what we call a 'dead' page with very little activity for 5 years, since May of 2009, and only 1,449 clicks. [see counter in lower left hand corner]
Thank You,
Mark Daul
Owner, Outdoors Niagara.com
Report Sturgeon Sightings –

Helen Domske, Associate Director for the New York Sea Grant Great Lakes program at the University of Buffalo – and a coordinator for this State of Lake Erie meeting for 15 years – concluded the evening by emphasizing the importance that the angling community can have in monitoring sturgeon in the Great Lakes. The U.S. Fish and Wildlife Service has only a small amount of time to devote to field studies for lake sturgeon and anglers can be the eyes for them to observe fish spawning or other important activities. If you are out fishing and observe or catch a lake sturgeon, you are asked to consider collecting the following information: location (GPS coordinates, nearest town, etc.); date and time of sighting; activity being performed (fishing, diving, etc.); number of sturgeon; alive or dead; length; body condition; any tags or markings; and, take a photo of the fish if possible. If you have any questions or would like to pass this information along, you can do so by contacting the Lower Great Lakes Fishery Resources Office at 716-691-5456.
Tell your friends you saw it on Outdoors Niagara!
---
Back to Home Page / Back to Hilts Jr. Friday Weekend Fish Locator / Back to top / See mini-index below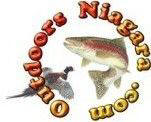 Be sure to vote in our mini-poll
Most informative and up to date outdoors website on the planet
Featuring Niagara River, Lake Ontario and Lake Erie Fishing Local Hunting. Also featuring up to the minute fishing reports,
Niagara fishing tips, conditions, Live Lake web cam, and regular updated forecasts.
Fresh almost daily! Be sure to bookmark us!

"Never outdated ~ Always updated"
Go to Hilts Weekend Fish Locator /
Go to Bill Hilts Outdoors Sunday Column /
Go to Joe Ognibene's "Outdoor Scene"/
Go to Will Elliott's "Fishing Line" /
Go To Bill Josephs "Straight From the Field"
Go to Mike Gillis "Outdoors in Niagara Experiences"
Bob Confer's Outdoors
---