Choosing the best fishing rod for a particular type of fishing is not necessarily tricky.
While a wide variety of fishing rods and reels are available, selecting the best pairing is easy if you have a better idea of what you want to catch and a little bit of information about your fishing spot and the variety of fish you will find.
For shore or surf fishing, there are many excellent options of fishing rods, reels, lines, and lures to choose from.
Knowing which to pair together can make for a successful fishing trip that guarantees the best catch.
But what size rod is ideal for shore fishing? And what should be considered when choosing a fishing rod for this style of fishing?
Shore or Surf Fishing Rods: Best Length for your Rod
Fishing rods are available in different lengths for different types of fishing.
Longer rods are a better size for surf fishing. Here's why:
Longer rods allow for long-distance casting
Better control of the rod when fighting a fish on your line
More sensitive than shorter rods – feel movement easier
Reach the sandbars where fish hide more easily (50 to 150m from the shore)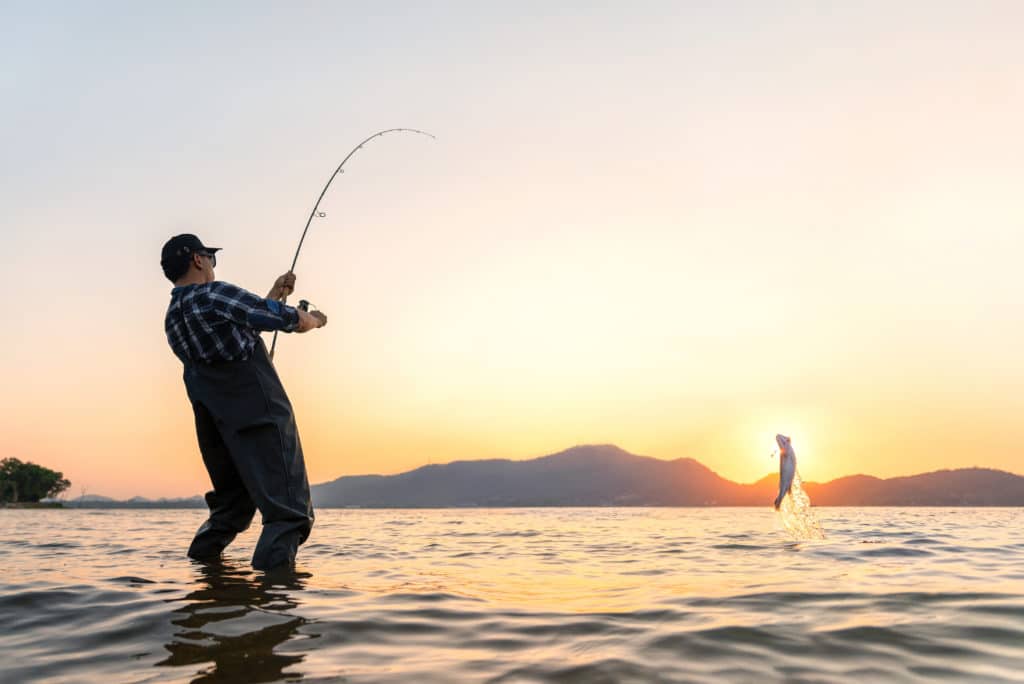 Ideal lengths
Angling pros recommend a rod between 10 to 12 feet.
This is the best length for maneuverability and control of the rod and allows the angler to reach the sandbars and other areas where heavy fish and the best variety of fish can be found.
Longer vs. Shorter
Shorter rods (8 to 10 feet) are lighter, allow for accurate casting, and give the angler better leverage when reeling in a whopper of a fish.
But, they are also known to break and do not allow for fast reeling action.
Longer rods (11 to 14 feet) are the best for surf or shore fishing and are great for long-distance casting.
These rods have a fast reel action, are more flexible when reeling in a large catch, and can handle heavier lures and larger baits without flexing or snapping.
Long rods are more difficult to transport and can be heavier to hold and control than shorter rods.
Another important consideration when choosing a rod is the height of the angler.
Choose a rod that is comfortable to use and hold and that does not put unnecessary strain on the arms, shoulders, and back.
How to Choose the Best Rod
When choosing a rod, there are a few things you should consider.
While it might be easy enough to walk into a store, buy a simple setup, and head off on your fishing trip, selecting the best rod for the job takes a little more than that.
Let's explore all the various aspects of choosing a rod for shore or surf fishing.
#1: Your intended catch
While many fish for enjoyment and relaxation, some fish on a more professional level or consider it more than just a hobby.
These experienced anglers are more inclined to catch a particular type of fish.
It is essentially up to the angler and their skill level to decide their intended catch and choose their rod and fishing gear accordingly.
#2: Rod length
For those who have never experienced a fishing trip, rod length or bend doesn't seem like a big deal.
But skilled or experienced anglers will know what type of surf fishing rod is best and what length of the rod is ideal for various water and fish types.
Choosing a rod according to its length is a great idea and could mean the difference between a catch and a "one that got away" situation. Surf fishing rods are generally longer than regular fishing rods.
These have an increased casting distance, keep the line out of the surf, and are long enough for people to pass by underneath safely.
#3: Type of reel
There are a few types of fishing reels to choose from.
The most common fishing reels used for shore or surf fishing are spinning or conventional reels.
The rule here is to go with what you know.
Spinning reels have come a long way and have been updated, and the designs have changed over the last few decades, making them the ideal fishing reel for most types of fishing.
Spinning reel size should be considered according to the side of the rod and whether or not you will do any heavy surf fishing in the hopes of catching larger species of fish.
#4: Rod materials
Fiberglass, graphite, and composite are common materials used to make fishing rods.
When choosing a rod, the key things to look at are the strength of the rod, price, and durability.
Fiberglass is light, strong, durable, and, best of all, cheaper than its graphite or composite counterparts.
Graphite is another popular material used in the construction of fishing rods.
And while it is strong, it is also more sensitive to action.
It is, however, the more expensive option and is usually only reserved for more-skilled or experienced anglers.
Composite rods are made of a graphite and fiberglass mix.
They, too, are a good option but have the disadvantage of being heavier than the other options available.
#5: One-piece vs. two-piece rods
There are two main options of rods available.
Anglers can choose between a one-piece or fixed rod or a two-piece rod that can be taken apart when not used.
Remember that you will need to carry your rod, tackle box, and any other fishing gear to the fishing spot.
However, there are drawbacks, including the chance of the rod pieces falling apart when casting or fighting a large catch.
#6: Cost of the rod
A cheaper rod is ideal if you want a nice, simple fishing rod that you will most likely use once in a blue moon.
Some great quality rods are available for as little as $30, with prices increasing to $1000 depending on the type of rod, materials, etc.
Surf fishing anglers are more inclined to purchase more expensive rods or look at those in a higher price range as they are willing to spend extra money on better components that benefit them while fishing. But choosing a rod and how much you are comfortable spending on that rod is all down to personal preference.
#7: Reviews and Recommendations
Before you rush out to your local tackle or sports equipment store and buy the first rod you see, do some research and buy a rod with the best reviews and is highly recommended.
Most online stores have a review section on their website that includes feedback from customers who have purchased a product.
Read both the positive and negative comments people have made, and see which rods are recommended and which ones other customers consider a waste of their money.
Another great resource is a large number of online fishing forums, as well as the sales staff's knowledge at your local tackle shop.
Conclusion
Choosing a rod and reel for your shore or surf fishing expedition is easy if you know what you want to catch.
You can read our information guide on how to choose the best rod, as well as recommendations on the length of rod preferred for surf fishing.
Online fishing forums have a great deal of information about the different types of rods available, as well as reviews and feedback on how they work.
The general rule of thumb is that a longer rod is preferred for surf fishing as it allows the angler to reach up to the third sandbar, a popular place for fish to congregate.