More Wilson Fish Stocking
---
OUTDOORS NIAGARA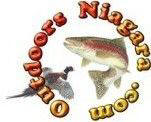 "It's Yours, use it, protect it, share it."
"Niagara's Premier Outdoors Website"
---
More Wilson Fish Stocking. ~ All photos by Terry Swann
Off the rod tip: Why does the DEC stock fish? Ever think of that? Answer: Some are stocked to enhance recreational fishing, others to restore native species to waters they formerly occupied. And local assistance from volunteers is a necessity.
DEC operates 12 fish hatcheries throughout the state and it is critical that budget cuts don't affect our hatcheries. We all know proposed license fees are excessive for 2010, however it would be great if that money was used strictly for the hunting and fishing opportunities afforded to us. No one minds MODEST increases but 2010 increases boggles the mind. Looks like our leaders are trying to balance the sate budget on the backs of the outdoors people. Contact your sate representatives.
Mark Daul

The Van Hornesville Fish Hatchery is Just east of
Utica NY, south of the NYS thruway on route 80
[1285 Chyle Road]

This is how the pipes get to the water for
stocking at the 425 pier in Wilson

Good size 'Bows eh?
12 inches!

Stocking another load just inside the Harbor.
This is right behind the water processing plant.

Thar' she goes!

5,900 Rainbows were stocked today!


What would we do without
these Wilson Volunteers?
Click on photos to enlarge!
Many Thanks to the Wilson Town Board and Wilson Volunteers for all their help, cooperation
and interest in projects like these. Kudos from the Fishermen & Outdoors Niagara
GO TO WILSON PAGE ON THIS WEBSITE
HOME
---
Back to Fishing Reports Weekly / Back Main Index/Contents / Go the NEW Opinion Page / Will Elliot's Fishing Line / Bill Hilts Jr. Weekly Fish Finder Joe Ognibene Weekly Outdoor Scene / Bill Hilts Jr. Sunday Outdoors