STORIES ABOUT THE OUTDOORS IN NIAGARA AS SEEN IN WNY PAPERS
Sentinel
Sports
Section!
<![if !vml]>
<![endif]>





Lewiston-Porter

www.wnypapers.com
"Your need-to-read newspaper" A local paper enjoyed by thousands

SENTINEL "OUTDOORS IN NIAGARA" ARTICLES by Mark Daul
– Outdoors Advocate

More articles on our archived page HERE
---
A
Note from Mark Daul: The Lewiston-Porter Sentinel is a free weekly paper
[Saturdays] under the umbrella of Niagara Frontier Publications [NFP] and
distributed to homes and businesses from throughout the area and touts itself as
"WNY's best local coverage".  The LP Sentinel is one of three local papers
under this umbrella and the others are the Grand Island Dispatch and the
Niagara-Wheatfield Tribune.
Periodically I write Outdoor articles for the
Sentinel and they are here for those that would like to read them if you don't
get this publication. I hope you enjoy them as much as I enjoy writing them.
There will be more articles submitted to the Sentinel and as they are printed
they will be put here so be sure to check back about every other week. Make sure you read the stories about E10
gasoline!……………… ENJOY!
---
Summer
Bass Fishing using Tube Jigs
for bait
Bass.
You can catch them from shore, you can catch them by boat, catch
them on live bait, catch them on artificial bait, you can troll for
them, or stillfish for them, and it makes no difference. This
summer, in Western New York, we have enjoyed some of the best
smallmouth bass fishing available anywhere, and we can expect it to
continue right into Fall. Bass season closes on November 30th. I am
talking about smallmouth bass here, and we also have largemouth bass
but the "smallies" are most sought after by our local population of
fishermen. Yes, largemouth are just as tasty, and just as much fun
to catch. Wilson Harbor gave up a 6 ½ pound largemouth specimen last
year.
The guys that are able to fish out of the
Buffalo harbor on Lake Erie have been taking limits of huge
smallmouth from the opening day, [3rd. Saturday in June]
all summer, fishing the reefs. They use everything but the kitchen
sink to latch on to those fighting warriors of the deep.  Live bait,
dead bait, no bait, it didn't make any difference. The challenge was
to catch a daily legal limit of five, which in most cases would
range from three pounds and up, and that would be considered big
smallmouth bass!
I know I will be criticized by some, but of all
the freshwater fish, I hold bass as second to none, from fishing
action, right up to the frying pan and on my plate.
Those that fish closer to home, Upper Niagara,
Lower Niagara, and the bar at Fort Niagara out to the green buoy can
brag that there aren't many days when you can't get on the water and
bring home a limit. Even those trolling with hard baits along the
Lake Ontario shoreline extending from the Niagara River as far as
Wilson are having good results.
I asked a die hard salmon/trout fisherman that
was having a lull in salmon/trout, and had just recently turned his
efforts to bass fishing using lighter lines and smaller bait, which
fish was more fun to catch, a bass or a salmon on heavy line and off
a downrigger? The answer was bass fishing off much lighter line.
When you latch on to a bass, you never know what it is going to do.
It will dive and dig deep, or all of a sudden change course, making
you think he got away, all the while swimming to the surface, and
then all of a sudden, 15-20 feet away, he'll burst out of the water
all the while you are rushing to reel in the slack line so he
doesn't get away. Sometimes, when you least expect it, the lure will
come loose from the fish when he is jumping, and you pulling,  the
lure will come flying back to you like it was on a rubber band. You
had better duck!
My summer fishing has been fun with the bass
cooperating anytime I got out with my son and grandson. I got my
ears pinned back thinking I was going to use live bait and have an
advantage on them because they were using artificial soft plastic
baits called 'tube-jigs.' Truthfully, I have always been a live bait
man, and always believed in it, seldom using artificial. I've always
liked the feel of a fish grabbing on my bait presentation, and me
setting the hook at the right time. This time out, I said to myself,
"When in Rome, do what the Romans do, and use artificial bait just
like they do." I learned that the last time out when I got skunked
using live bait, and they caught all the fish. I always have live
bait with me just in case for back-up though. So this time we went
out, the first thing I picked up was a tube-jig, an artificial
hollow soft plastic bait around 4 inches long with little wiggly
tails molded at the business end, just like they were using.
In the photo you see here, the top tube-jig
skirt is a 3 inch crawdad color skirt with a ¼ ounce jig head above
it. Bottom is a 4 inch Junebug color tube-jig skirt, with a 3/8
ounce jig head above it. Notice the 60 degree bend at the eye end of
the hook. Hooks are size 4/0. Both have metal flakes and salt and
garlic imbedded in the skirts.
The crawfish color bait was hot that day, but after experimenting
with different colors by grandson Jesse, it seemed any color would
work with him testing different ones. We started the day out going
to the Johnson Drift, a slow drift along shore just north of the
Peggy's Eddy drift which is just North of Joseph Davis State Park.
After Captain Dan, got the boat positioned and moving in 17-20 feet
of water, the first cry out was "I GOT ONE" and that was by the
captain of our ship, Dan. I'm glad I taught him so well when he was
young on how to fish. Ha! He has surpassed me, and anything I could
ever teach him in his younger days. He is now teaching his new
methods to me and anyone else that fishes with him. Back then we
never had baits like tube jigs that we are using today.
16 year old Jesse got an itch, and was nagging
to go out to the bar in front of Fort Niagara to fish there. He
wanted to catch bigger bass. After about an hour of putting him off,
and we had nearly a boat limit, [limit is five per person] off we
went, out to the bar. Once again, the captain maneuvered the boat
around to get the right drift, and within minutes the first fish was
landed. I don't want to name the person that got the biggest
smallmouth bass of the day, but if you look at the top of this
story, and look at the authors' name, you'll know. Yes, it was
caught at the bar just like Jesse figured; that's where the big ones
were.
You don't need an engineer's degree to fish
with tube-jig bait. It isn't difficult, just use a simple method.  I
use a 6 ½ foot, fast action tip Fenwick graphite rod, with 6 pound
test monofilament line on my spinning reel. Kind of a light outfit
for most people, but I think that is where the thrill is, and using
light equipment increases the thrill. Try catching a 3 pound jumping
bass on that outfit and you have your hands full. Of course if I was
just fishing for food, I wouldn't be fooling around with that light
equipment. Our captain is outfitted with a 7 ½ foot bass rod and
bass casting reel with the new thinner but heavier pound test
Fluorocarbon line. That has to be the new modern way to fish I
guess.
If fishing one of these tube jigs for bass or
even walleye, you should make sure you are fishing bottom, letting
enough line out to be sure. Even shore fishermen use this method by
casting out, make sure you are on bottom, then reel in slowly, all
the while doing what the name implies, jig it. Boat fishermen, need
to do the same. While drifting, reel in slowly, jig the lure or
twitch it just enough to make that bass think the 'thing' is alive
down there, all the while cranking in the line slowly. Those little
tails on the business end will flutter, and that would excite any
fish into biting, making it think it heard the ding! ding! of the
dinner bell. When you buy the tubes make sure they are scented,
don't buy them if they are not. I had one that was used for so long,
my fishing went dead until I gave it a lick and discovered the taste
and scent was gone. Changed the tube and within 5 minutes I was
hollering "GOT ONE!" Everything was caught using tube-jigs that day.
We all know some days, fish just don't
cooperate, and that is when you need to change methods and bait, but
for now, learn how to fish with those tube jigs!
---
Osprey
living among us
There is a magnificent
bird of prey that lives
among us, one that's
rarely identified by
anyone who truly knows
what it is. Last June, I
received an email from
John Eddy, an
outdoorsman friend of
mine who sent me a link
to a video showing an
osprey "fishing" for its
next meal.It is truly a
fascinating video if you
have never seen it
before. You'll see this
bird in flight, locate
its dinner underwater,
put its feet forward
with its talons spread
aimed at the prey, and
then drop its head like
a diver does as it hits
the water. It then grabs
the fish under water and
flies away. Another part
shows it grabbing what
looked like a 5-6 pound
rainbow trout. I must
have watched this video
probably six times in a
row in complete
amazement.Visit the

www.Arkive.org
website and find out
more about this highly
skilled bird of prey.
There are many osprey
videos to view, such as
one showing a great
American Eagle attacking
an osprey's young chicks
being fed by its mom,
and so much more. Visit

www.arkive.org/osprey/pandion-haliaetus/video-00.html
.
I received an
interesting email from
Porter resident Skip
Walton shortly after I
wrote the deer and
vulture story. He told
of spotting an osprey at
the north end of
Dickersonville Road
sitting on top of a
telephone pole with a
large fish in its
talons. Walton
commented, "I know the
osprey well having lived
in central Virginia for
15 years, and see them
quite often on some
water close to where we
have a house. Just
curious to know if
anyone else has reported
seeing an osprey in that
area? I have seen them
on the Niagara near
Lewiston, but not that
far out, and inland one
half to 1 mile from the
lake."
I assured Skip I
would let him know if
anyone else around here
has spotted any.
Lo and behold, I
received an email from a
"mystery woman," a
resident of Youngstown
who was reluctant to
have her name used. She
said she is "an amateur
naturalist and has been
for some years." I
believe her because her
email was quite lengthy,
describing the many
different creatures of
God that roam our
backyards and woods day
or night. I'll refer to
them in future stories,
but right now let's
center on osprey.
In her email relating
to this great bird, she
starts by noting she is
a "long standing member
of the Georgian Bay
Osprey Society, having
originally been roped
into it by a childhood
buddy who was one of the
founders. I've also
watched osprey
extensively in Florida,
and once even seen a
nest from which a large
metal fisherman's net
was hanging. She must
have stolen the net and
its fish!" the woman
wrote.
I asked her about the
osprey spotted on
Dickersonville Road by
Scott Walton. She
responded, "I can tell
you that osprey are
excellent fliers and
that seeing them inland,
so long as there are
ponds or canals (still
water) containing fish,
wouldn't be too strange.
But they won't go very
far from significant
sources of fish.
Dickersonville Road is
still only a stone's
throw from Lake Ontario
and not too far from
Bond's Lake."
This mystery woman
told of having a nesting
falcon (a merlin) on her
Canadian property one
season; the mother
falcon screamed an
annoying screech day in
and day out at any bird
coming within a country
mile of her nest. She
related, "I saw an
osprey take one of her
chicks. It flew right
past my window and three
of us saw it. The osprey
carried it away, with
the mother in screaming
pursuit."
"She was fast, but
the osprey made off with
the baby anyhow."
Mother Nature at work
here.
Osprey poles are
erected for the purpose
of helping osprey
propagate in certain
areas. These are tall
poles, some as tall as
30 feet with a platform
at the top with nesting
twigs and sticks to
encourage this great
bird to nest. Ospreys
are true "snowbirds" and
migrate to Florida and
warmer climes in the
winter. But they always
return.
In her email she
offered a great idea
that some civic
organization could
pursue. Perhaps a Boy
Scout troop, maybe an
outdoor club's project,
it could even be an
educational activity for
a school project.
"There are two or
three osprey 'poles'
located near my Canadian
property," the woman
wrote, "and everybody
there takes a huge
interest in which
nesting poles are
occupied, which produce
chicks, and
additionally, in
stewarding them to
maintain their privacy
and safety. It has
become a community-wide
bond. All to the good!"
"I would be happy to
see poles along the
Niagara River, since
I've seen osprey both
along the lower river on
up to Fort Niagara," she
wrote.
When I asked this
woman if I could quote
her on some things and
use her name for a
future article, she
wasn't immediately in
agreement. "My kids
think I am already an
eccentric embarrassment
and that would put them
around the bend, almost
as much as having their
friends find road kill
in the freezer," she
responded.
I laughed pretty hard
at that statement. I
thought it would be a
good thing for her kids,
and they would be proud
of their mother for
being a long-time
amateur naturalist who
has observed these
things for many years.
In asking her
permission, I told her,
"I'm sure your info will
be very informing and
interesting to the rest
of my Sentinel readers."
She responded, "So,
OK, you can use my name;
how about just the first
name (Andrea)? Or my
nickname (Lynn)?"
So now everyone knows
who this is mystery
woman is. Her name is
Andrea, and she's been a
resident of Youngstown
for more than 20 years.
And she has more to
tell us about other
interesting things, but
I can't get it all in
this story. Later.
---
Baby
Deer Kill on Lake Road – Vulture Sighting
Saturday morning my wife and I were coming back
from breakfast in Youngstown, and we passed someone in a pickup
truck going in the opposite direction, and my wife noticed he had
his tailgate down and what looked to her like a dead fox with its
head hanging down over the tailgate. Being nosey, [I could say
curious] I turned the car around to follow the vehicle to see just
what it was. About a mile or so later, the guy saw me and pulled
over and it was my friend Dave Gombert, who is the Deputy Town of
Porter Highway Superintendent, and a guy that loves his hunting and
trapping more that anyone else I know.
It turned out to be a late June or early July
born white tail deer fawn, a little smaller than Bambi, and no red
light on its nose. When I got out of my car Dave started telling me
the story of how someone "killed his baby with their car." Stating,
"probably speeding of course, that's why I cut the grass far back on
the side of the road so these 'idiots' could see if something was
going to cross." Angrily, he started spitting nails. His hunting
grounds are somewhere around Lake Road and that's all I'm allowed to
tell you, I know where, but I had to take the Hunters Oath. Dave was
a little upset because about an hour earlier he was on a mission,
and drove by his hunting grounds, and here was mom and her baby fawn
standing in the field far off the side of the road just looking
around. Dave was pretty proud of that moment. About an hour or so
later after his mission was completed, and going back the same way,
here was the baby lying on the white line in the middle of the road
expired, still warm and floppy like.
Dave and I were standing at the back of the
truck admiring the beauty of the markings of the recently born fawn.
Still warm to the touch, and its coat was as soft as that of a new
born child's hair; it was clean, bright and pretty, with the white
spots mixed in with the rest of the chestnut colored coat. As we
were standing there talking, I could see the anger and the hurt in
this hunters eyes. I had a sinking feeling in my belly, thinking how
the mother feels, because she had to be right there with it when it
happened. The supposed speeder apparently just kept right on going.
No signs of skid marks on the road just the grim looks of a crumpled
up baby deer.
If you remember an earlier story about Gombert,
it was about the big dog that came into range on his hunting trail
camera, a camera that is mounted to a tree or a post and will takes
pictures 24/7 of any movement that passes by the lens, so a hunter
would know by viewing the picture if he was in a fertile hunting
area or not. In that story a large Newfoundland dog, a dog that can
weigh up to 150 pounds, and belonged to someone in the neighborhood
was photographed. It left everyone thinking it was the big black
bear that was sighted a couple of years earlier in the Town of
Lewiston and again in Newfane.  That same camera keeps track of the
comings and goings of any two legged or four legged critter that
comes across the lens, Dave knows his hunting grounds are protected.
He also knew that mom and the newborn were there too.
Being a Deputy Supervisor for Town of Porter
Highway Department, Dave lives by the rules, and this little
creature was disposed of in the proper manner. So if you are
traveling Lake Road, keep your eye out for momma deer, she has
already suffered enough grief, and probably pops is moping around in
the woods too after the loss. NO SPEEDING!

Plenty of Vultures
Monday, about 9:30 am, traveling down Oneida
Street near North Fourth in the Village of Lewiston, the sky was
alive with a kettle of vultures circling around. As fast as I could
count, I counted 18 or 20 of them just in my view. They must have
had some fresh carrion on the ground they spotted, because they hunt
for food in flight. There must have been enough to feed a family of
these waste collectors. Referring to an earlier story from last
March, I referred to them as being "waste collectors." There was a
good example; 18-20 vultures were about ready to clean up either a
road kill or a dead rodent of some kind in the neighborhood, maybe
someone's yard right in the Village.  Remember,
vultures circling in flight, is
called a 'Kettle,' when on the ground in numbers it is called a
venue, meaning a place to gather. [and eat]
When you see
these creatures, remember they are protected under the Migratory
Bird Treaty Act of 1918, and you can not harm them in any way. When
they glide and soar, they are using the air currents caused from the
warming air from the ground to the sky. Once in a while, they will
flap their wings in flight but not often.
A lot of times,
we don't pay attention of our surroundings, and in this case
probably people at home in that neighborhood, were maybe doing yard
work, mowing grass, etc. never think to look up.
---
When
famous Country singer George Jones passed away recently at the age
of 81, the TV and radio broadcasters went with the tag name Jones
earned during his career as "no show Jones" because in his younger
years he had an alcohol problem, and didn't show up for some of his
shows.  The other tag name he earned was "The Possum" which was
supposedly an inside joke about his looks, or facial features. I
could never see that but there it was.
Possum or opossum, whichever you want to use is
your choice. I am not a Grammarist by any means, so lets stick with
possum. A possum can be regarded as being kind of ugly, but at the
same time cute, even with their long pointy nose, funny ears, naked
nose, and long scaly tail. Some of you older folks should remember
the comic strip "Pogo," a very popular comic strip featuring all
animals as its characters, and Pogo was the center of it all. Pogo
ran in newspapers through the late 1940's, up until the very early
1990's. A loveable character he was. All possums are not as loveable
like Pogo was. Adult possums don't hang in trees by their tails like
you think, only the real young do. "Playing dead like a possum" is
not folklore. They really do when frightened by a predator, and
predators generally won't eat something they didn't kill. Possum are
"marsupials" meaning an animal that carries their young in a front
pouch much like kangaroos do.
One day I was walking around my neighbors'
house that was vacant at the time, and I was also checking the
shoreline erosion down near his shed. I started walking back up a
slight incline along the side of the shed, and all of a sudden I
heard this growling and hissing. I thought, what the heck is that. I
turned and looked, and here was a possum, mad as hell at me, and
running in a sideways fashion after me all the while growling and
showing me his sharp pointed teeth, all 50 of them, like a feral
cat. The picture you see is what this guy chasing me looked like.
I did what anyone else would do, I ran like the
dickens up the incline toward my own yard, and in one jump, I hit
the seat of my picnic table, and the other foot got me on top of it.
Thinking to myself this animal is nuts! When I got on top of the
table I looked down and this little guy was still running right like
he was the one being chased. He ran right by me, straight to under
my shed. While normally slow, I couldn't believe this little
creature could be so fast and so brave, and I was so frightened. I
sat on the table watching for him to come out from under the shed,
and he never did. The thought went through my head that what if it
dies under there and the stink is so bad I can't go into my shed. It
didn't happen anyway. I got to thinking that possum might have
rabies or something, and later I was told rabies is highly unlikely
in possums, plus they are known to seldom bite. Possum are normally
nocturnal. Actually they are for the most part, a harmless animal
that roams the countryside, and backyards, always looking for their
next dinner spread. Mostly a possum's home is in trees, and you
never want one under your house or porch if you have a crawl space.
They will tear up anything under there, like wiring, insulation,
etc. They eat a variety of foods like grubs, chicken eggs, snails,
and even human garbage, so keep your garbage lid on!
Some people make pets out of them, why I'm not
sure, but I would bet that is illegal. [and silly] In some southern
states, possum is table fare for some families in stews, sauces, and
creamed etc. The label on the can you see pictured says, "Creamed
Possum, with Sweet Potatoes, Garnished in Coon Fat Gravy." Several
years ago a friend of mine took a fishing trip to Florida and
brought back a can of canned possum meat for me. I didn't believe
what it was because I never heard of it before.  But I guess it was
what it was, I never opened it, and if I look hard enough, its still
hanging around someplace if it didn't ferment and blow up by now.
Believe it or not, all across New York State there is actually a
hunting season for them that runs from October to February. There is
no bag limit, and I know of no one around here that is a possum
hunter. They are hunted for their fine fur, food, and sport.
About the size of a cat, these critters are not
afraid of anything, not even cars. As slow as they are, they'll
wander right out in front of your car, daring you to swerve, and you
won't even know it until you feel the thump with your front tire,
quickly followed by a thump of the rear tire. The next morning the
Turkey Buzzards will be right there to clean up the mess. Talking
about Turkey Vultures, you won't see their majestic flights unless
you look up to the sky.
Remember, "A good day fishing is better than a
bad day at work," Take that neighborhood kid fishing if you don't
have any of your own, and do not forget the elderly, they would love
to go too. Be sure to visit

www.OutdoorsNiagara.com for the latest in fishing information,
and be sure to check the Lake Ontario webcam while you are there. It
will give you live lake conditions for sailing, boating, or fishing
real time. Comments, suggestions email me at

[email protected]
---

Three Men in a Boat Saved
by Youngstown's United States Coast Guard
No
doubt everyone in the area heard about the boat that capsized out
near the red buoy off Fort Niagara Saturday April 6th.
The incident was reported by all local media outlets, now, here's
what really happened. According to the boat's owner 49 year old Dan
Crowner from Wellsville N.Y., the three men went out fishing about
7:30-8:00 a.m. that day and the lake had a little chop, but nothing
serious. There were other boats out there fishing the same area and
the fish were hitting quite well. As time went on, the chop picked
up a little more into waves and not noticing the seriousness, a
large wave came over the stern, and then another before anyone
realized what was happening. The boat's owner/captain for the day,
Crowner, had his passengers quickly move to the front of the 19 foot
Crestliner to try and balance the boat from the weight of the water.
Then Crowner tried starting the 115 HP Mercury hoping to splash some
of the water out the same way it got in, but it wouldn't start right
away, and that's when the boat took a flip from another wave.
Naturally, when the boat flipped, a lot fishing
equipment went into the drink with the three men. Besides Dan
Crowner, his brother-in-law, 49 year old Bob Guinnip, also of
Wellsville, and 59 year old fishing buddy Bruce Blank, from Andover
N.Y., held on to the capsized boat until help arrived an hour or
more later. Good thing the three men were wearing their flotation
vests like the law dictates. Luckily, Crowner had his cell phone in
his shirt pocket, and it didn't get wet so he could call 911
emergencies. Crowner wondered why it took so many rings to 911
before anyone picked up the phone. Of course, when you are in a
panic like that, three rings would have seemed like a lifetime. The
Sheriff's Department was notified, which in turn notified the ever
so dutiful United States Coast Guard in Youngstown. The crew from
the Coast Guard was assembled quickly, but had to trailer their
rescue boat about 7 miles south to the Lewiston launch ramp to get
in the water because the water level is so low, they couldn't use
the Fort Niagara ramps. Then they had to travel another 7 miles
back, and out to the red buoy which is another 3.7 miles out into
the lake.
While
the men were struggling to climb on top of the upside down boat,
Blank's clothing was stuck on something and couldn't get up there,
Crowner was already there, and being cold himself from the 36 degree
water, and seeing Blank in serious trouble, grabbed Blank, and with
super human strength, pulled him free to keep him from going back
under the boat. What felt like an eternity, the Coast Guard arrived,
and shortly afterward a rescue helicopter appeared in the sky. The
men were safely rescued but the boat had to be abandoned and left in
its capsized position.
On the following Wednesday, Dan Crowner and his
brother-in-law Bob Guinnip, were out searching the shoreline hoping
to find their boat. Sure as heck, it was found still up-side-down
near the shoreline of Four Mile Creek. While struggling with the
thought of how they were going to retrieve the boat, one of my
neighbors asked what they were doing, and he directed them to my
house and told them there is a possibility I would know someone who
could help retrieve their boat.
It was funny, here was a guy knocking at my
door, and when I answered, this gentleman asked if I was Mark, I
told him "yes," he said, with an outstretched hand, "my name is Dan
Crowner" I must have had a blank look on my face when he said, "I'm
one of the guys that was rescued in the lake last Saturday." He was
thinking I would recognize his name, but I didn't. I said to him,
Holy Smokes! you are a lucky man to be alive. He agreed, with a hand
over his heart.  He went on to tell me the story about the rescue
and how much people around here in Lewiston and Youngstown, were so
kind, generous and helpful. He even stressed how the people at Saint
Mary's hospital took care of them in such a professional and caring
way treating their hypothermia, and how much so many other people
cared about others around here, all the while commenting on how much
the Coast Guard meant to them.
The only name that popped into my head for
helping them retrieve their boat was Josh Stack of The Boatworks on
Blairville Road in Youngstown. I called Josh and told him of the
men's dilemma and put Dan on the phone with him. Josh got over to
the creek as soon as he could to assess the situation. After looking
things over, he noticed gas was just starting to drip out of the
boat and knew something had to be done quickly. Josh phoned the NYS
Park Police and told them what was happening, and told them the only
way he could get to it is if he drove his Toyota four wheeler
through the walking trail in the woods so he could upright the boat.
On the phone, he was told to go ahead and do whatever needs to be
done quickly, we don't want another disaster on our hands. So, Stack
and his helpers, Rew Hooker, and his father Pat Stack, managed to
maneuver that Toyota through the narrow trail, and was able to hook
a heavy rope from the Toyota's roll bar to the boat side rail, and
upright the Crestliner. The minor gas spill was taken care of in a
quick fashion, and getting that Toyota four wheeler in and out of
there was a chore. Josh said a door was banged in, the front and
rear fenders suffered, along with other bumps and bruises because it
was muddy and the vehicle was slipping sideways, bumping into trees,
while blazing a wider trail to get to the boat.
I guess you could say I am a critic of cell
phones, saying hell, what did we do before we got cell phones?
Here's what we did: We went to the corner and dropped a dime to call
someone. But what would Josh have done when he saw gasoline starting
to leak? Run to a corner? What about the three men in the capsized
boat do? Swim to a corner phone? Cell phones are an important part
of our lives today, so I guess I'll just eat crow, and shut up. But
a funny thing did happen as Dan was telling me that when they were
discussing things on shore after being rescued, one of the young
Coast Guard men asked Dan without thinking I suppose, "don't you
have a marine radio on your boat?" Probably thinking why he didn't
use it. Dan said "Yeah, but it wouldn't work, it was under water
with the rest of my boat equipment"  Oops!
Just to keep things on an even "keel" here, Dan
is not new to Lake Ontario or the Lower Niagara, and not new to
boating and fishing around Lake Erie and Ontario, but fishes mostly
at Chautauqua Lake where the waters there are more forgiving. He
said he has been around boats and fishing with his dad ever since he
was a little kid in single digits, it wasn't a case of carelessness
or anything like that, things just happened that way.
To end this story, because of rough waters, it
wasn't until Sunday morning that the boat could be towed back safely
to the launch ramp, and taken to the Boatworks boat yard for further
evaluation.
Lesson learned: Don't go boating without proper
safety equipment, life saving equipment, and use common sense for
whatever conditions you encounter.
---
---
Water Witches around the
Lewiston-Porter Area
Outdoors in Niagara

OK,
you don't need an imagination here, what I am going to tell you,
I believe is true. Water Witches are people that can find water,
unscientifically, deep under the ground with a tree branch
shaped like a Y or two wires bent in the shape of an L, made
from a simple wire coat hanger, the ones I have seen. In fact,
there are scientists, engineers, and professors that will argue
until they are blue in the face, that you can't find water
underground by using a Y stick or bent wire like an L. They'll
tell you there is no scientific evidence that anyone can find
water in this way.
Water Witches in more modern days are called "Dowsers," and
dowsing it is said, is a very unscientific way of finding water
underground. A few weeks ago the Discovery channel had a show
called 'Backyard Oil' I saw men dowsing for oil, and very
successfully I might add. When dowsers are looking for oil, it
is called "doodlebugging." The show I saw, a man was
doodlebugging, and pointed out an area to drill for oil. The
show takes place somewhere in Kentucky, and a lot of these
people have become what they describe as backyard millionaires,
dowsing and drilling their own wells. Drilling wells can become
expensive, and scientific exploration can add to that cost.
Doodlebugging they found was a more accurate way of finding oil.
Dowsing goes back to ancient times, the times of the Pharaohs,
Moses, and others of those eras. As in everything else, there
are skeptics like those engineers, scientists and such as
mentioned above. Guess what, like many of you that have
experienced dowsing by doing it yourself, maybe you know someone
that is actually a dowser, maybe you never heard of dowsing.
I am not a dowser, I found that out as I stood next to a friend
that was one. He tried to show me how to clear my head, with a
dowser stick in my hand, and walked me through the process all
the while his stick was pointing to the ground showing me how
his was working, and how his stick was pointing to the ground.
His stick even showed which way the water was flowing
underground.
A friend of mine, John "Johnnie Greengrass" Tower, who worked
for the Town of Porter, was a dowser. When the sewer/water
department needed to locate a waterline that was unmapped
underground, he was the go-to man. He took out his divining
rods, he had the L shaped devices, and would be able to tell you
where that underground water pipe or drain was, and which way
the water was flowing. This all sounds paranormal, something
that takes place outside of scientific explanations, but here it
is.
My Brother Ed, and his wife Gerri bought a house in Cambria
several years ago, and every spring their basement would flood.
They were warned by the former owner that this house had that
problem since it was built. After a couple very wet springs,
even with additional sump pumps running, the flooding always got
out of control. They called a contractor to see what could be
done. The contractor, Bob MacVie Construction in Youngstown,
went to the rescue. After looking around the area in question,
and not being able to identify exactly where the water was
coming from or going to, he had an idea, but advised to get a
dowser to make a decision as to exactly where to dig. A dowser
was called, a lady from Lewiston that is well known for her
experience, and in a matter of minutes, described to MacVie
exactly where to dig, how wide, and how deep to go. She
described it as an underground stream that would overflow and
consequently end up flooding the basement, because it flowed
right beneath the house. Lo, and behold, she was right on the
money. MacVie dug and installed a large drain pipe, and diverted
the water to a lower ditch, ending the problem.
Art King, a Youngstown native was another dowser known in the
area. For years, King would be called on by his neighbors and
friends to come to their place, dowse, and tell them where to
dig for water in their yards. Again, he was the go-to man. He
dowsed for his own well, dug, and found water in his back of his
yard.
Dr. Paul Vendrell, an educator at the University of Georgia
would visit my neighbors each summer for a couple of weeks. He
was an avid fisherman, and a well schooled individual. He and I
would go at it, when it came to dowsing and dowsers. He was a
non-believer, and he ran with the fact that there is no
scientific evidence of it being possible. He might have been
right by saying there is no scientific evidence, but am saying I
am right, I saw it happen in front of my own eyes.
I would like to know what other people think, and if you have
had experiences in dowsing. Do you know a Water Witch? Did you
ever witness it being done? Let me know. Email me at
[email protected]
Food for thought: If you lost your left arm, then your right arm
would be left…..Huh? More food for thought: Take that
neighborhood kid fishing if you don't have any of your own, and
do not forget the elderly, they would love to go too. Be sure to
visit
www.OutdoorsNiagara.com  for the latest in fishing
information, and be sure to check the Lake Ontario webcam while
you are there. It will give you live lake conditions for
sailing, boating, or fishing real time. Comments, suggestions
email me at
[email protected] .
---
 'A tidy boat
is a happy boat;' ………..U.S.
Coast Guard stirring things up
Outdoors in Niagara

Famous 'Erie Dearie' picturedA short while back, I wrote a story about doing some fishing for a couple of days with my son, Joe, at Chautauqua Lake in Chautauqua County. While we were having conversations, something popped in my head about walleye fishing, and out of the back of my head a memory came back about the times my fishing pal Joe Ognibene and I made trips to Port Clinton, Ohio, also known as the "Walleye Capitol of the World." A few times we hauled a boat with us and as time went by, somehow Joe got tied up with Capt. Jim Fofrich who fished out of Port Clinton. Fofrich asked if we wanted to take a trip out with him on his 25-foot SportCraft. Of course, the offer was gracefully accepted and it was free. Who wouldn't like to take a fishing trip with a seasoned charter captain like Fofrich? We did, and learned things that will never be forgotten.
Fofrich supplied all the bait, the lures, and shared his knowledge on how to fish a weight-forward spinner for walleye. A popular spinner at the time in Ohio was the "Erie Dearie." It had a special shaped lead weight on the front followed by a spinner, red beads, and then a long-shank No. 2 gold hook with a worm. The "Erie Dearie" was invented by another Lake Erie captain, Dan Galbincea, in 1961. In 2010, the spinner was purchased by a larger company, but it's still making the revolutionary Erie Dearie. The photo you see is an original Dearie from my tackle box.
The western end of Lake Erie is well known for walleye, and bass is the second most sought-after fish. Around here, we enjoy the eastern end of Erie anywhere from the Pennsylvania border to Buffalo for walleye, bass, and jumbo lake perch.
Fofrich liked drift fishing using these spinners and if the wind got too "heavy," which made drifting too fast, he brought out a sea anchor.
A sea anchor is nothing new, but this one was to me at the time. It consists of a cone-shaped bag made of light canvas or something similar, and at the top end of the cone three ropes are fastened around the circle; a long rope is attached to them, which is fastened to the boat. At the bottom of the cone is a hole in the center to let the water flow through it, much like a funnel. It was a brainy idea probably thought up by some sea faring captain, somewhere.
There is a second rope that is fastened to the bottom of that funnel, and that's for pulling in your anchor. You'll need to pull that rope in order to pull the bottom to the top to release the water, so you will need strength to it pull back in. It's like turning it inside out.
The first time we went out with Fofrich he stressed his feelings about having a tidy and clean boat, which makes for a happy boat. There were four other guys on this trip – all great fishing enthusiasts. I can remember one guy was a "Noodler" and he entertained us by telling some of his Noodling stories that day.
Noodling is the art of catching catfish, sometimes referred to as mudcats by your hands reaching underwater along the shoreline with only your bare hands far into holes and crevices. You can probably find videos of Noodlers on YouTube if you would like to see how it's done.
Another guy owned a patent on his own walleye fishing lure. Funny thing was, he never used it on this trip.
Back to the captain's "tidy boat, happy boat." If someone took a worm out of the bait box that sat on the engine cover and dropped some bedding, Fofrich would reach over, pick it up, put it in the box where it belonged, and say to everyone, "a tidy boat is a happy boat." Before long, he had us all saying it either to ourselves or singing it out loud to our own made up music.
Today, as I write this story it is singing in my head. Try it yourself; say the words while putting your own melody to the words. It sticks. It's like listening to a song you haven't heard in ages, and then when you do it sticks in your head all day. If someone of the six of us dropped as much as a gum wrapper or moved a rope out of place, someone in the crew would say, "a tidy boat is a happy boat," and it would be picked up immediately.
It was a great lesson learning that. How many times have we been out and just laid things down, or dropped things on the floor, or maybe just pulled the boat anchor in and let the rope sit to walk on or trip over? A fishing rod had to be put in its proper place; the landing net had its own place. Nothing laying around made for a safer, happy boat.
Oh, and a fish. Fofrich would never allow us to bring a fish in and just flop it on the floor. If it was to be released, you unhooked it over the side and let it go. If was a keeper, you took the hook out over the side and dropped it in the live well. Plus, the only thing you tossed into his Lake Erie was a fish or a worm, never any "junk."
I lost track of Capt. Fofrich over the years and hopefully he is still around teaching fishermen and new potential fishermen the ropes. He was a really great Lake Erie fisherman, teacher, and environmentalist.
U.S. Coast Guard loses its fury on western Lake Erie
Talk about stirring things up. Charter boat operators on the west end of Lake Erie got a lesson from the U.S. Coast Guard recently when some over-reacting Guardsman crew pulled a captain over after a day of fishing. They were seeking documents as proof if his boat was made in the U.S. All his other documentation was in order except for being able to produce proof of where his boat was manufactured. When he couldn't produce it, he was warned that he could be fined $40,000 for the first offense, and a half-million for any further offenses. The captain had to leave his vessel docked for five days while things got straightened out. He claims he lost nearly $3,000 while in port.
The boat this captain owns is a SportCraft like the one Fofrich ran, and these boats were made in the U.S., however he had no documentation. The law the USCG was enforcing is an old 1920 law that is called the "Coastwise Trade Act," also known as the "Jones Act." The act was formed back in 1920, just two years after World War I to protect American shipbuilders against foreign competition, mainly large ships. In those days, the act was more concerned with shipping of merchandise in U.S. coastal waters, never a tiny little vessel like a Great Lakes fishing boat. After lawyers got involved and the Charter Captain Association got rolling, the Coast Guard apparently decided it was a bad move, and is backing off for now.
---
What
kind of fish has no jaws but prey on fish many times its size?

Outdoors in
Niagara
Mark Daul
Wonder
no more, the answer is here. Some will argue they are not a fish but
are "Vertebrates." If you really want to know what a "Vertebrate"
is, Google it, but, in the meantime lets treat them as a
pre-historic, blood sucking fish that attaches itself to other fish
and proceeds to suck the blood and the life out of fish 10 times
their size. According to the NY Department of Environmental
Conservation, [DEC]  "Sea lamprey have two separated fins on their
back (dorsal fins) and suction disk mouth filled with small sharp,
rasping teeth and a file-like tongue."………. "The sea lamprey is a
jawless parasite that feeds on the body fluids of fish."
The sea lamprey, an eel that has created havoc
with our trout and salmon fishery for years, is a parasitic creature
that will attach to not just trout and salmon, but to walleye,
northern pike, and many others including our native, prehistoric
lake sturgeon, which by the way, are listed by the NY DEC as being
an endangered species.
On the Outdoors Niagara website there is a
forum where anyone can post fishing questions or facts or inquiries
of any kind. It is a well read forum, mostly postings by locals. We
do get visitors from around the world occasionally, and we had a
person by the name of Simon McCabe from Great Britain [UK] looking
to buy Lamprey eels as fishing bait in his UK stores. This inquiry
from Great Britain was responded to by a local Youngstown fisherman,
and nearly retired, Mike Gillis who replied "There are plenty of
lampreys in the lower Great Lakes. Other than pulling them off of
parasitized fish, how would one go about catching lampreys? I'm sure
that we would love to export as many of these pests as we can to
you."  McCabe replied; "Hi Mike,  "What I was looking for is a
commercial supplier for Lamprey. We have had contacts in Latvia and
Lithuania who have supplied us in the past, but they are not able to
supply. I believe that they catch them in eel traps. In the UK we
use Lamprey as bait for Pike. It is considered to be very effective
bait over here. We would probably need about a tonne of the suckers
to get us started." Wow, 2,000 pounds! If they are ever shipped from
a supplier in the U.S. they would naturally have to be frozen and
that is the way they would want them.
Then more recently, there was a posting from a
rather large fishing bait supplier in Oregon saying, "I am looking
to buy 3-7 thousand pounds of lamprey, trying to find a supplier for
them. Please get hold of me." This supplier is Extreme Northwest
Bait Company, Lebanon OR. [http://xtremenorthwest.com
]
Sea lamprey is considered a nuisance fish to us
on the eastern seaboard and every effort is being made to control
them because of the damage they do to other species. The scientists
have come up with a partial solution, they developed a chemical
called "Lampricide" [TFM] a chemical treatment put into creeks,
rivers and streams to stem the population of them in the larval
stage, where the first three to six years of their life is spent in
the soft bottoms of these waterways before they mature into adults
and grow to their parasitic adult form.  Total life span from eggs
to larval stage, to adult is said to be five to eight years. The
adults die after spawning.
There was another interesting post on the
Outdoors Forum by a person named "Blue Bonnett", certainly a pen
name, but he stated: "When I catch a trout or salmon with one
attached, I immediately kill the lamprey. The fishery commission
likes anyone who fishes the Great Lakes to report their catches to
help them study these invaders. The commission is interested in the
number of your catch, the species, whether your catch had an
attached lamprey, or if your catch had a scar, they want to know
where you were fishing. All of this information helps the commission
combat these invaders by their control programs, and these programs
have helped to remove almost 90% of them. Your help is needed to
continue the commission's efforts in controlling the lamprey
populations of the Great Lakes."
Years ago, when these eel were first being
recognized as a threat to our trout and salmon fishery, I caught a
salmon with one attached, and pulled it off the fish, then tossed it
in the fish box. When I got to my shop, I put it in an aquarium with
water to show people what these newly recognized critters were all
about. It lasted about two weeks with no complications, and then one
morning as I opened the store for the day, I noticed he/she had
jumped out, right over the top of a 30 gallon aquarium with low
water. Still alive, it was put back in the aquarium. Two days later,
the same thing, but after this time I put a piece of ¼ inch hardware
cloth over the top. The lamprey lasted about two more days before it
squirmed out at the edge of the cover before he/she was found
expired and squirming no more. It was an interesting thing to watch
while it lasted, and for people to learn about. The kids used to
stop by after school to "see the fish at the tackle store."
Picture from the Great Lakes Fishery Commission
website. Lots of info and more:

http://www.glfc.org/sealamp/how.php
Please "Take a Kid Fishing," and teach them
right, like the old Chinese proverb says, "Give a man a fish and you
feed him for a day. Teach a man to fish and you feed him for a
lifetime."  Comments, or suggestions for this column, contact
[email protected] or go to www.OutdoorsNiagara.com for loads of
outdoor information.
---
Did
you ever hear of an animal that can pay
for its own yearly maintenance, like
veterinarians fees, room and board, and
be a great pet at the same time? In
Niagara County, the
Lewiston-Porter-Newfane areas
especially, there are some people
harboring critters that can do those
things, while at the same time making a
hobby of raising and caring for these
docile animals. Of course, there are
many of these critters in other counties
across the state and the country, but
Niagara County has its own distinction.
These animals stand between 32 and 39
inches tall at the shoulders, weigh
between 105 and 185 pounds, have
straight legs when looked at from the
front or the back, and each foot has
only two toes. Their back legs have a
45-degree bend like those of other
four-legged creatures when looked at
from the side.
Looking closer, you see that their ears
are spear-shaped, like those relic
Indian spears we have all seen pictures
of. These animals are related to the
camel family, but they normally don't
spit at humans like their bigger
relatives do. They are known as alpacas,
an animal that the Chavin culture in the
Andes (Peru) in South America some 6,000
years ago harbored for meat, work, and
fleece. Later, the Incas were credited
with domesticating these pack animals,
and they were raised for their fleece,
which was woven into fine clothing,
particularly reserved for royalty at the
time.
It is estimated there are about 3
million Alpacas worldwide and only about
17,000 of them in the U.S. Alpacas are
not used for meat production like they
were centuries ago. Today they are used
for the production of a highly
sought-after fleece, which is higher
quality, much softer than sheep's wool,
lighter, stronger, hypoallergenic, and
having no prickly feel like wool. They
were introduced in this country in 1983.
Robert and Dee Oberlander have a horse
farm on Braley Road in the Town of
Porter, boarding horses for local
owners. They had an extra barn that was
underused and decided to get two alpacas
for a hobby. In six short years the
family has grown to 14.
Robert (Obie) and Dee harvest their own
fleece from a herd of alpacas they
harbor on their farm and keep all 14 of
them. Obie says, "You never know, we
keep adding to our family now and
again." He added, "Holy smokes, we just
adopted a Suri the other day."
There are two breeds of alpacas, and the
Oberlanders favor the Huacaya,
(pronounced "wa-ki-ya") because it is
easier to treat and prepare the fleece
for weaving. The other is called the
Suri (pronounced "surrey"). The fleece
of the Suri is stringy with longer curly
fibers that make it harder to work with,
although it feels softer and fluffier
when woven.
From raising, to feeding, caring for,
shearing, washing, dying, carding,
weaving, and knitting; to creating hats,
gloves, sweaters, scarves, capes and
socks for their family and friends, the
Oberlanders do it all themselves. Their
herd is sheared every spring, and each
animal gives up about five to seven
pounds of fiber.
On a visit, I saw scarves, sweaters,
capes, purses and hats, all handmade
from alpaca fleece by Dee from scratch.
Obie says they shear in the spring; this
way the summer heat isn't so hard on
their "family." The Oberlanders note
there are about 20 to 22 different
shades of color that alpacas have, and
white can be dyed any color. White and
black are the favorites among many. Dee
uses a food coloring process and warns
not to use clothing dyes like Ritz. She
also warns not to use aluminum pots for
the dye, only enamel or stainless steel.
The food dyes work perfectly like they
do on Easter eggs, because they both
have a lot of protein.
Carding is a process where the raw
fleece of the alpaca is broken up into
clumps of fiber, and then aligned to
individual fibers that prepare the fiber
for easier weaving into strands called a
"cloud." After the cloud is hand-rolled
into strands, it is then separated as it
is being run through the spinning
process. Dee started out with hand
carding, but quickly turned to drum
carding. Seen in the photo, the drum
carder machine is hand-cranked and makes
the process much easier, putting strands
into a treadle-powered spinning wheel.
Dee took lessons to learn this process.
Her teacher showed how it was done back
in ancient times, by making yarn by hand
spinning. It's an art still used today
in some countries and with hobbyists.
She started out with a small spinning
wheel, then graduated to a better one,
then another, and finally settled on the
one she is using today. Her household
contains four of these wheels and all
are still operable. It goes to show how
hobbies can become an obsession. Her
hobby occupies two rooms, one downstairs
for the carding process, cleaning,
drying, and storage. The upstairs room
is the spinning room, where everything
finally comes together.
One day while driving by I stopped and
visited with the alpacas. They were
friendly and unusually nosey. One after
the other came over to see me. One hung
around staring me in the face, and made
a low, clucking, friendly type of a
sound. I had a conversation with him,
and he seemed to know what I was saying
over the fence. I asked if he would
smile at the camera, and the picture you
see is what I got. What an elegant pose.
One interesting thing I learned on my
visit is that alpacas are very tidy;
they use a communal dung pile somewhere
in a corner of their corral where they
do not graze. Females have a tendency to
"follow the leader." When one goes, the
rest of the females line up at the same
time, and go in the same place one at a
time.
A few days later, I again visited the
Oberlander's at their farm, and asked
about that "friendly guy" that greeted
me at the fence. Obie said, "Oh, you
must be talking about the 'Old Man!' "
He explained the "Old Man" was his very
first alpaca of the pack and is a really
friendly character. "He likes
everybody," I was told.
Alpacas of Niagara, located on Tonawanda
Creek Road in Lockport, is a large
Western New York breeding farm, offering
all kinds of services to other owners
and breeders. Recently they held the
area's first "Alpaca Fiber and Harvest
Festival" at the former Amherst Museum,
featuring an Alpaca fashion show, a
first in Western New York. Among the
many assorted vendors, there were live
alpacas and dozens of vendors with
handmade and selected imported alpaca
products.
The farm includes an Alpaca Shop where
you can purchase alpaca knitted goods
with an emphasis on locally produced,
hand-made, and made-in-the-USA items.
Visit their website for more information
and location:

www.alpacaniagara.com .
Those with elementary-aged children
might want to think about taking a trip
to visit these friendly alpacas. The
Oberlanders welcome children and would
show them all about these ancient beasts
of burden. The alpaca is a clean and
fascinating creature, and children could
even take them for a walk without being
spit upon. Phone Dee at 716-745-3173 for
arrangements in the spring; maybe you
can even watch the shearing and learn
how that is done.
Yes, the great outdoors is where it's
at. Enjoy it frequently.
---
New York state operates 12 fish
hatcheries throughout the state,
raising muskellunge, walleye, brook
trout, brown trout, lake trout,
rainbow, Coho and Chinook salmon.
Money is all derived from license
fees and in each state throughout
the U.S., a 10 percent flat federal
tax is collected on recreational
goods, from the Wallop-Breaux Tax
Act. Everything purchased is taxed
from fishing tackle, guns and ammo,
boats, gasoline, etc. The federal
tax collected is then doled out to
each state, with amounts depending
on license sales and the land and
water area in each state on a 60-40
split. This program was initiated by
sportsmen and conservationists to
provide the states with funding for
fish and wildlife management and
research, habitat acquisition and
sportsmen educational programs. In
other words, sportsmen pay their own
way, not just fishing, but hunting,
too.
On Saturday, April 9, there will be
a state Department of Environmental
Conservation hatchery truck arriving
to stock a load of baby brown trout,
numbering roughly 4,440, at the
Lewiston Landing. These tiny tots
will be about 8-9 inches when
stocked. The truck should arrive at
about 10:45 a.m. The trucks are
large, equipped with oxygenated
tanks, and if you go bring a camera
and stay out of the way of the
workers. Releasing these fish
doesn't take long, so get there
early in case the truck arrives
early. It's a good event for the
kids to learn about, and maybe a
good thing for a school project.
When you see how small these
little brown trout are when they are
stocked – then grow in size up to 30
pounds – you will be amazed. A New
York state-record brown tipped the
scales at 33 pounds, two ounces,
caught in Lake Ontario, in June
1997. These baby browns were
incubated and raised at the Rome
Fish Hatchery north of the city of
Rome, east of Oneida Lake. Annual
fish production in New York alone
reaches 1 million pounds of baby
fish, salmon, trout, etc., raised
and stocked in freshwater waters
throughout the state. Why? Two good
reasons, and off the top of my head:
to improve and sustain recreational
fishing, and to restore native
species that once called our waters
home.
Pictured is a little brown trout
that jumped out of the tank at a
stocking site in Wilson while
attempting to transfer it to his new
home.
Other spring hatchery trout
stocking in Niagara County waters
will be taking place through April
and May. Gill Creek and Hyde Park
Lake will see almost 2,500 brown
trout introduced in April, plus
another 100 browns and 200 rainbow
stocked at Oppenhiem Park pond in
Wheatfield. This spring, Olcott and
Wilson will receive 12,500 rainbow
trout and 22,180 brown trout each.
All counted here is a total of
almost 77,000 fish in Niagara County
alone, with more to come. Actual
stocking dates cannot be determined
very far ahead of time because of
weather, maturity, hatchery
schedules, water temperatures, etc.
Another thing that should make local
fishermen happy is if there are
surplus fish in the hatcheries, they
are directed to our area waters;
stocking dates go unannounced.
As spring arrives, stocking of
area waters gets into full swing
along Lake Ontario and the Niagara
River. The Lake Ontario Trout and
Salmon Association starts their pen
raising project with Chinook salmon
and rainbow trout, as does the
Niagara River Anglers Association
pen raising steelhead (rainbow)
trout. Wilson has a loose
association of dedicated fishermen
that created a highly successful
pen-rearing project a few years ago
in 12-mile Creek. These projects are
all volunteer-based, and the work
done by dedicated sportsmen. The
rearing of these newborn fish get
imprinted to these waters, and after
being released the great majority
return as adults to waters that is
familiar to them, spawn, and this
gives sportsmen a run for their
money and efforts. A great cycle.
---
Whenever
I hear the word "rodent," right away I think of mice and rats, but
in the rodent "family" there are many different sizes and types of
relatives. All rodents have the distinction of having a single pair
of incisors in both the lower and upper jaws, especially made for
gnawing.
I have several rodents that entertain me, but they are much larger
than their lower class relatives of mice and rats that are not "good
entertainment." A couple other mammals you are probably familiar
with are those timber dwelling chipmunks, house pets like guinea
pigs, and of all things, the beaver.
I have gray and black squirrels, a nuisance pest to many people
especially if they infiltrate your house, usually in the attic.
These visitors can be removed and shut out, and are not welcomed
back. They are the smartest four-legged critters you will ever get
to know, and their acrobatics are better than those Chinese acrobats
we see on TV. Watch them for a while playing, making heroic jumps,
climbing up and down trees, chasing one another and making all kinds
of playful chattering noises.
In the mid-afternoon on those hot summer days, it's siesta time.
They like to stretch out in a spread-eagle position on the flat
surface of the fence or on the roof of the shed or on a tree branch
and just take life easy. They get up early in the morning, eat,
play, rest and then eat again in the evenings. Yes, squirrels close
their eyes when they sleep.
I'm sure everyone has some backyard squirrels. Mine, I turn into
friends. They get so friendly I can sit on my back porch and they'll
come visit looking for a handout. Seldom do I let them take food out
of my hand because it's not really a good idea. Their eyes are
placed in their heads where they can't see too well up close, and
you can accidentally get nipped. They'll reach up with their front
feet and try to knock your offering out of your hand, and those
little feet have claws like needles that will prick you, not
realizing they could hurt you. So many times they hear the back door
open, and right away there could be two, three or even four of them
rushing up the steps looking for me. At least I like to think it's
me they are looking for, but it's really the handout of old bread or
crackers, and sometimes I'll offer peanuts in the shell. Squirrels
in the U.S. are not known to cause rabies.
My grandkids think grandpa's squirrel colony is cool. Gramps doesn't
have to get his pets shots, clean up after them, be home to feed
them, no vet bills, they eat and drink for nothing, and yet when he
comes outside, they are there to greet him.
They are hard to identify and put names to, but I had some
identifiable friends. One was named "Chips" (pictured), because of
two chips out of the tip of his left ear. He was the friendliest of
all.
Then I had one named "Gimpy." He was a guy with a deformed front leg
that he couldn't use, but he did quite well with just three legs. He
held his food in his left paw while eating. He did have trouble
climbing trees, but he did it. "Chicken" was so named because he was
the scaredy-cat of the bunch. He would come near, but never up to
the porch to see me. He would sit on the picnic table and stare at
the others and me. Then there was "Blackie," obviously because he
was a friendly black squirrel, and once in a while, he would bring
another black friend, but the friend wouldn't get involved.
My backyard gang was numerous at times and I don't know what kind of
lifespan they have. But when spring comes each year it seems all my
old friends are gone or maybe they found a better feeding spot.
Speaking of feeding I had my own "miniature Nik Wallendas" when I
hung my bird feeder on a long thin wire from the plastic coated
backyard clothesline. Squirrels would climb up the tree, and
tightrope the clothesline out to the feeder, slide down the wire and
help themselves to the birds' sunflower seed. I quickly found that
wasn't a very good idea to keep my friends from raiding the bird's
precious sunflower seed. I thought I was smart using the thin wire,
thinking the wire won't allow them to grip it, but they were smarter
than me. They just put those little feet to work grabbing the wire
tight, and slowly slide down, then jump to the ground when done.
After buying different so called "squirrel-proof" bird feeders over
the years, I solved the raiding problem by driving a 2-inch
galvanized pipe in the ground and mounted my common, wooden feeder
on the very top. They could still climb the pipe and get up there
until I cut a piece of aluminum drip edge I had laying around, and
attached that in an upside-down cone shape near the top of the pipe
under the feeder. That works really great, stopped them in their
tracks, no more stealing from the birds. If you do this, make sure
there are no trees or other objects close by, they can climb and
jump to the feeder. They are very smart, and I have seen them jump
as far as five feet, and as high as four feet.
Hunting squirrels is a challenging sport. In New York State, from
Sept. 1 to Feb. 28 hunters get out in the woods to hunt squirrel
from sunrise to sunset. Hunters are allowed a daily bag limit of
six, and they make a good meal when prepared correctly. Most hunters
are good wild game cooks, and they advise to never broil or grill a
squirrel; they will get chewy like the tongue of your shoe. Young
squirrels can be roasted, fried, boiled or in soups. The old guys
probably should be simmered or crock-pot style cooked until tender.
Cleaning them for the pot can be tricky, and I watched this being
done once, but I didn't learn a thing except let an experienced
person do it for you. Maybe search YouTube for a video. You must
have a valid small game license to hunt squirrels.
Mepps, a large U.S.A. company that makes fishing lures, and in
particular spinners, has a squirrel tail program. They buy squirrel
tails from hunters and other individuals and use them for dressing
on the hook behind the spinner. Apparently fish like this little
added attraction and squirrel tails do the best job in providing a
pulsating action provoking fish to bite. The company pays as high as
26 cents each for premium tails. Of course there are rules you need
to follow. Go to their website for the details at http://www.mepps.com.
Even if you don't fish, the website is interesting, and you can see
what the added attraction looks like. You can even request their
free lure catalog there.
---
Outdoors in Niagara
Mark Daul
Bond Lake
– A Hop, Skip, and a Jump Away – Bring Paper 
Niagara
County's Bond Lake Park, is a 531 acre park facility, located off Lower
Mountain Road outside of Lewiston. The lake area itself was once a
limestone quarry site back in the late 1800's spanning into the very
early 1900's before it closed. Today it is a nature-themed park and is
open to the public. Fishing, hiking, canoeing, picnicking, skiing,
sledding and so much more, and not more than 20 minutes away from any
resident of Niagara County. One thing, in the Lake area especially,
there are NO restrooms, a real shame for a public park as nice as this.
If you picnic at one of the two beautiful picnic pavilions, be prepared
to solve your own problems with your family. I would think the Niagara
County lawmakers could come up with a couple of bucks for a couple of
facilities, that can be bought or rented pretty reasonably. I took a
short 25 foot walk up one trail and was met with stale toilet paper on
each side of me; nice for kids & ladies huh? In the meantime, bring a
roll and go where the bears go, in the woods, after all, maybe that's
what "nature-themed" means. [No, there aren't any bears.]
The picture of the girl wearing the great big smile
is because she is out fishing with her parents. Not fishing for exotics,
just 'out' fishing! Not fishing in a big lake, not fishing from a boat,
but fishing off shore at Bond Lake.
The little fishergirl in the picture, is Brandi
Love Fischer, a 9 ½ year old [going on 25 yrs. her Mom says] that I met
at Bond Lake fishing with her parents. When I asked her name she
promptly told me 'Brandi,' then I asked "how old are you Brandi?"
gleefully, she said '10'while she was baiting her own hook for another
cast. Her proud stepdad, Russ, told me she does everything by herself,
and sure loves fishing. In about 5 minutes her mother caught a fish and
Brandi took it off the hook for her, and then before she released it,
she held it up like she was going to give it a big fat kiss. The fish
wiggled unexpectedly, while she was holding it, and Brandi let out a
little scream like 10 year olds do, it was an unexpected surprise. After
her cute theatrics, she leaned over and put it back in the water for
another day. Just from that, you can see Mom and Dad are good teachers.
Its things like this little story that makes my day.
I often get asked by people where there is a good
safe place to take kids fishing, where they'll catch fish, be safe, and
learn to fish without a boat. Those are good questions for sure,
especially the last one. I can tell you, we have lots of places around
here to do that. Quite often I'm asked about the real young ones, from 3
to 7 years old. Although any age is a good age, I say if they can stand
up on their own, start then. Sometimes attention spans are narrow, so
when you are out, take them around and explore other things. Frogs,
birds, salamanders, butterflies, trees, are all things that they will
remember for the next trip. I realize all parents are not necessarily up
on fishing, and the other things the great outdoors has to offer, but
what better way to learn than when teaching your children, and you're
learning things for yourself at the same time. I find a lot of parents,
including single parents, would rather have their kids in organized
sports where the teaching and coaching is done by someone else,
sometimes even by strangers. Team sports are wonderful, but nothing
compares to getting out on your own, learning on your own, and as you
grow up, there is just you and a fish, and the outdoors. Fisher people
when fishing are strictly one on one, just "the fisher and the fish."
The fisher tries to figure out how those fish think, while the fish is
looking for a simple meal, and at the same time outsmarting the fisher.
Like scoring a touchdown or a home run in little league, the fisher gets
a thrill, but all kids can't score touchdowns or home runs, so guess
what, all kids can catch a fish!
Starting out, remember you won't get much fishing
in yourself, not until the youngster gets comfortable with baiting their
own hook, and taking their own fish off the hook. Some take longer than
others, but if you show the proper way to do it right from the start,
they will want to learn like you did, or you can learn together.  Maybe
you are not a very good fisherperson yourself, so what, bring a couple
of old rags with you, something like an old terrycloth washcloth or an
old bath towel torn into pieces for your hands. They will help you keep
your fish under control until you unhook it, and get it back in the
water. Getting the fish back in the water is the first lesson in "Catch
& Release." Releasing fish unharmed back into the water is a good
lesson, because it is protecting what we have for the future
fishermen/gals.
So your trip starts out on the right foot, be sure
to bring sun lotion, insect repellant, a snack of some kind and a
liquid. You might even want a Band-Aid or two, just in case. The experts
say between 11:00 am and 2:00 pm in the afternoon are the hottest times
of a day, so avoid those times. It's always best to go early.
Take a trip to your neighborhood tackle store and
pick up a 4 or 5 foot spincast rod & reel for your child for starters.
Cost is 10-15 dollars for child size starter set for 3-5 year olds. You
don't want anything too long or you will be untangling line cast after
cast. and pulling line out of trees. A 6 ½ or 7 foot hand-me-down rod is
fine, if you have an older learner, but make sure it works good. Kids
are fast learners so you don't want defective tackle, then their
interest is driven away. Of course, you can buy bait, worms in most
cases, in many of these shops and other places along the road. But the
very best thing to do, is go out with the child the night before, go
digging for worms yourselves, or spray your lawn an hour or so before
dusk, and pick them off the grass after dark. They are free then.  Or
you can even try a small ball of fresh bread on your hook.
When kids start out, they don't want big fish to
scare them, they just want the thrill, a little sunfish or rock bass
will do fine. It's like hitting that home run I talked about. This is a
good time to teach them about their surroundings, and taking care of
those surroundings. Make sure they don't leave bait containers, sandwich
wrappers and other junk lying around. Have the kids pick up any
containers, or debris that might be left behind, not you, they won't
learn a thing if you do it for them, remember someday they'll be fishing
without you. If there is junk around other people left, make that part
of the cleanup too, the kids don't mind, they will feel even more
important, and will learn a good lesson.
After all this about taking kids fishing, don't
forget the elders, they would just love to tag along on a simple little
fishing trip too!
---
Outdoors in Niagara
Mark Daul
Note: Picture is of author
Who
is Don Supon? That's your first question I'll bet. Let me tell you, and
bring you up to date. He lives in Niagara Falls with his wife Myra. Don
is a retired school teacher, and outdoors enthusiast from the git-go.
Don owns a deer camp in the Southern Tier that he maintains and visits
often. It has trail cams set up so when he is not at the camp, he can
watch what wildlife activities appear before the cameras in his absence.
He has shown me cam pictures of turkey, bear, coyote, and of course,
deer. Hunting has always been one of Don's major pastimes and I'm glad,
because now I have some venison in my freezer.
We met several years ago, when we were both younger
and doing our separate things, never really getting into deep
discussions. Having the same acquaintances, and the same interests, our
relationship increased as we bumped into one another on occasion, and
volunteering for the betterment of outdoor activities. Now, neither of
us do much volunteering, at our age, but still help out wherever we can.
Both of us always remind people to get out and enjoy the outdoors. As
the saying goes, and its origin is uncertain; "Yesterday is history.
Tomorrow is a mystery. Today is a gift. That's why it is called the
present."
Don and I took up fishing together a couple of
years ago, and we enjoy each others company, mostly. By mostly, I mean
when we get out fishing together, I am mostly out fished by him. We are
both nuts for perch fishing and that is what we 'mostly' do. A couple of
years ago, Don was looking for someone to fish the spring trout and
salmon derby with and I volunteered. When I said I'd fish it, the
weather was pretty nice, so I paid my entry fee and signed up for the
event. The day we went out, the weather changed. We got out in the lake
and set up around the green can [buoy] off the mouth of the Lower
Niagara. I froze on our way out and froze when we settled down after
putting our rigs out, then froze on the way back to shore. The wind was
blowing from the northwest, with a wet drizzle, until the sun broke.
Even then it was still cold, the wind has no mercy. We trolled for hours
and all the while I'm thinking to myself, this is the reason why I gave
up on this type of fishing many years ago. From then on, I will always
remain the 'sunshine man,' the type that only goes fishing when the sun
is shining and the thermometer reads over 65 degrees. Don owns a
salmon/lake boat equipped with all the bells and whistles, a roof with
side curtains, and now his lake fishing is all done with a new fisherman
learning the ropes, Dave Anastasia, a Ransomville resident.  I said
learning, but I know Dave catches on fast, especially from a good
teacher.
The fish you see me holding in the picture isn't
mine, I'm just holding it for Don, like all good guests should do for
the host. I'm dressed in layers with a good quality wind and rain
resistant Sterns jacket on with a hood, and if this was in color, you
could see my hands are beet red.
A few days ago, it wasn't over 65 degrees, and the
sun wasn't shining even though Don Paul on Channel 4 said it was going
to be, we took our chances and went to the Lewiston Landing. At 7:45 am,
we paid our $7.00 launch fee to the ever congenial Harbor Master, Pat
Mahoney. Pat was surprised to see us and launching my 'Outdoors Niagara'
boat there. I told him neither of us is in any shape to launch the boat,
drive up the hill to the parking lot, then walk back down those long
steps, go fishing, come back off the water, go back up those dreadful
steps to bring the trailer back down for the boat. Whew! Mr.
Congeniality, Mahoney, said "Gee, all you need to do is ask. I can pick
you up and drive you down after parking the trailer in the lot, then
drive you back up to the parking lot to get your vehicle." Aha, Don was
ahead of all of us. He and I came in two vehicles, Don lives in Niagara
Falls, and I live in Youngstown. We met at the parking lot, and Don
parked his truck in the handicap spot at the launch. We launched the
boat so when we take the boat out of the water, all he had to do was
drive up the hill and bring the car and trailer back down. Good thinking
on his part, but one of us still had to park boat and trailer above. Don
volunteered to do that and walk back down to the boat. Isn't he a
wonderful 'volunteer?'
Let me tell you about our perch trip that day. Of
course, we were both excited to be out on the water. Don sat up in the
bow, and I in the stern. I had to run the motor, set the anchor, and
make sure we were in the right spot with Don Paul's reportedly 15 to 20
mph wind blowing from a southerly direction. Anchors don't hold too well
in that wind, but it finally did catch something on the bottom, and did
its job. We moved to another spot, dropped the anchor, grabbed something
again, but when we went to move, the anchor was stuck solid. Thinking I
needed to cut the anchor rope to get free, I fired up the 25 hp Mercury,
and slowly pulled the anchor free.
Perching was good for the guy up front. He was
catching double headers on his $1.19 perch rig and I was catching
nothing on mine from the back of the boat. Being the nice guy that Don
is, he said, "Mark, move up about 20 feet, just opposite the dock over
there" I pulled the anchor, moved up, dropped the anchor again, and
started fishing. By moving up, now I'm fishing where he was dropping his
line at. Good deal I thought, now I can do some catching in his spot.
Not so, I never got a touch. The fish followed him those 20 feet and
continued pestering his bait offerings even though we were using
identical baits. Jokingly, I said to Don, how about taking my rod,
catching me a fish, then hand the rod to me, and let me reel it in. As
time went on, and silence was bliss, whenever Don caught an undersized
fish, he would throw it toward my line, like saying "you want a fish?
here's one for you, now catch it." Really rubbing it in I thought. Then
Bam! I caught a legal size bass on my minnow. Yeah, it went in the
cooler for my wife, she loves bass. About 10 minutes later, again, Bam!
This time a really nice size bass, I was really excited latching on to
two fish in a matter of 10 minutes. As I was looking at the strain on my
light line and watching it, I saw it moving to the surface with the fish
pulling it, then, it decided to show off, and go acrobatic. It broke
water, winked one of those red eyes at me, even though fish don't close
their eyes, this one winked.  After showing me how pretty his colors
are, he spit the hook back at the boat. I think it was still airborne
when it did that. I know it was big, and as friend, and outdoor writer,
now deceased, Joe Ognibene used to say, "if it got away, you can make it
any size you want it to be." He was right. Ok, lets say the one I lost
had to be a State record fish. Ha!
I guess fishing took up a good part of my life, and
at this time of life, it is really great to have a fishing friend to
share the days with, get out and sit on or near the water, have some
conversation about anything, go home and think about your next outing.
Remember to take a kid fishing, and don't forget
the elderly, they love it too.
---

►More
articles on our archived page HERE
Outdoors in Niagara
Mark Daul
Does Niagara have
Beavers? Yes, it does! 
Although
mainly a nocturnal animal, beavers can be spotted occasionally during
the day, and their homes or "lodges" I suppose they can be seen around
the County along different streams and creeks. There is a "lodge" along
the park trail at Four Mile Creek in the State Park; along your walk on
the path, you can see trees that are chomped upon by these little
lumberjacks. I must admit, this summer I haven't taken my walks along
Four Mile creek, but in prior years I have seen many beaver signs and
the gnawing of trees.
I live about 1,500 feet west from the mouth of Four
Mile Creek. In the calm evenings, when the sun is about ready to drop
down into the lake, occasionally we can watch one or two beavers taking
a cruise along the lake shoreline, probably exploring their
surroundings. You don't hear them coming, you'll just see a big "V" in
the water as they are swimming by.  If you startle them they will raise
that big paddle-shaped tail of theirs and slap it on the water and take
a dive, then you won't see them anymore that evening.  The slap is loud,
and it is to warn others to beware of danger. The extreme low water
levels in the creek this year may have affected their habitat as we
haven't seen any since early spring. The water is so low you can walk
across the mouth of the creek where it enters the lake.
One time this area was great beaver country, and a
great asset to Native Americans. They used beaver pelts for bartering in
the 17th century, trading to Europeans for metal tools and
implements. The Europeans used the pelts for clothing and hats. It is
said back in those days upper class Europeans separated the fur from the
skin to be used in the production of felt to be made into hats by using
poisonous mercury. Hat makers were called "hatters" and after time they
would become sick and disorientated from absorbing the mercury, thus the
expression "mad hatters" or "mad as a hatter." In New York State beaver
populations dropped in the 1800's, to where they were nearly extinct,
but made remarkable recoveries in the 1900's by proper management by the
DEC. Trapping and transferring them to better habitat, and management of
hunting and trapping seasons kept them to desirable levels.
Recently, Ed Rogers of Youngstown told me he saw
beavers cruising down the river some mornings around 6:00 am while
walking his dog on Water Street near the Youngstown Yacht Club. He said
the Villa Apartments on the river in Youngstown had a problem with them
chewing on young trees about 7-8 years ago, and to prevent additional
damage, they put screening around the base of the trees. Rogers said he
walked down the river to see where they were going or where they came
from, and as he tried to follow them, they just disappeared.
Last fall, a hiker down in the gorge trail sent me
the photo seen here of a large felled tree and two more large ones that
were gnawed through, proving that beavers are occupying that section of
the river. These trees are right on the edge of the water. If you are
adventurous, a day spent hiking the gorge trails can be very rewarding.
Forgetting a camera for the hike would be a sin. Look at what this hiker
saw! Carry a fishing rod too; there are lots of places to fish.
In February of this year, Ray Dietz, husband of
Town of Porter Historian, Sue Dietz, was hiking in the Niagara Gorge on
the Canadian side and came across some maple trees that were being dined
on by these semi-aquatic rodents. I don't know if they swim from the
U.S. to Canada but they better have papers, or at least phone CANPASS!
The industrious beaver is considered good for the
environment, but at times they are considered a nuisance.  Beavers will
burrow in the banks of rivers and lakes building their lodges that
sometimes turn into dams along streams. They can transform landscapes
with their dams; building beaver ponds and marshlands and turn them into
habitat for fish, birds and other four legged critters. However, they
can also do damage to man made structures, contaminate water supplies,
and cause crop damage to farmers with their dams. The law says you may
not remove or interfere with a beaver dam unless you have a permit from
the NY State Department of Environmental Conservation. In New York
State, beaver control is managed by the NYSDEC. Hunting and trapping
season for beavers in our part of the state is from November 1, 2012 to
April 7, 2013, and there is no bag limit. You can check all the details
at

www.nysdec.ny.gov, and while you are there, check the information
they have on beavers.
Please don't forget to get those kids out fishing.
You will be surprised at the excitement YOU will have watching them land
a fish or two. Teach them well.
---
Outdoors in Niagara
Mark Daul
Before
iPads, Cell Phones and Facebook, Fishing Filled Our Time
Occasionally I bump into a long time friend of mine
and we get into some great conversations, and a few evenings ago was no
different. Bob Rougeaux and I were natives of Niagara Falls, and, now we
both live in the Town of Porter. We both went to Sacred Heart grade
school at the same time, and both had similar after school passions. We
didn't have anything near what occupies kids today, like all those
sophisticated electronics. We had tube radios, 12 inch B&W televisions,
and yes, TV's had tubes too, and test patterns that came on at midnight.
Our telephones were the rotary dial kind that kids of today have trouble
trying to operate and big hands and little hands on our watches. Does
anyone know where there is a pay phone on a corner somewhere today?
Friday nights were the big night for TV in my neighborhood with the
Friday Night fights; first, wrestling was on TV from Memorial Auditorium
in Buffalo, with Yukon Eric, Gorgeous George, and a guy named Farmer
Don, who always brought a pig with him into the ring. One guy had a ring
name like, "The Little Flower of Italy," a bad guy. The next program on
Friday nights was boxing. I can remember some legends like Jersey Joe
Walcott, Sonny Liston and Joe Louis "The Brown Bomber," because they
were my Father's favorites, and so was Gillette Blue Blades, Pabst Blue
Ribbon Beer, and the cameo girl "Genny." Betcha some of you old guys
remember the name "Willie Pep."
Times sure have changed, but basic fishing remains
the same as it ever was. Back then, all that was ever needed was a
stick, a hook, some line, and that could even be a piece of string, plus
a weight to bring it all down to where the fish were. A bobber could be
just a twig lying around the creek side or an old bottle cork you found
lying around the house. Sometimes our weights would be an old spark plug
or a nut that was lying around the garage. Bob and I were into the days
when we would fish Hyde Park Creek for bullheads and rock bass with our
"equipment." It was never called it fishing tackle because that is what
they sold in stores like Noah's Ark and Western Auto, or Behren's Tackle
Shop on Pierce Avenue. There was no money for that. Bob and I fished at
the same age, but separately. Bob fished all around Hyde Park Lake, and
I fished the creek at the "rocks," which were two big rocks at the edge
of the creek right near greens number 7 on the golf course at that time.
We never fished together because I didn't know he liked fishing after
school and Saturdays, neither did he know that I did.
Sometimes worms were picked for bait out of the
back yard or we packed some "Wonder Bread" as Bob called it. Yep, Wonder
Bread, the kind that "builds strong bodies 8 ways."  The bread had to be
fresh so you could roll it up in tiny balls and it would stick on your
hook. Two or three of slices were all you would need for half a day.
Toss that tasty treat out and there would be an underwater battle
between the bullheads and the rock bass. Big bullheads were kept to
bring home and brag to the neighborhood kids what you caught. How cool
is that! My father would put water in our concrete stationary tub in the
basement for my fish, and they would keep for a few days, and eventually
we would give them to Mr. Say, a neighbor two doors away, who would eat
anything that could swim including eels.
Those were the early days of fishing for us, and
eventually we graduated into bigger things, like getting new rods &
reels, along with real sinkers and hooks with no rust. Boats came later.
Then we needed tackle boxes to keep all our stuff in. Through our
growing years and later, it was a rare occasion Bob and I would see one
another because raising families, paying mortgages, and things like that
occupied much or our time, but it was agreed, we always managed to find
time to fish through those years.
In our conversation, Bob started rattling off all
the places in Ontario, Canada he traveled to catch walleye. "Walleyes
like that" as he stretched out his hands showing me how big, and his
eyes almost popped out of his head with his expressions. You would swear
he just caught it at that moment while talking about them. Bobcaygeon
Ontario, a small community located on the Trent-Severn waterways in
Ontario Canada, was at the top of his list. Then his memory exploded and
started rattling off the names of the guys he traveled with. Names like,
Obie Brown, John Smeal, Fire Chief Ted Forrester, among others. The
others I couldn't remember fast enough. All these names were fellow
Niagara Falls firefighters of which Bob Rougeaux has retired from.
Eventually, Bob graduated into the salmon fishing
scene on Lake Ontario for a while, but walleye and some bass fishing
sticks in his heart today, right along with his stick and string and
Wonder Bread.
I went over to Bob's house hoping to get a picture
of him holding a fish up or fishing or something for this story, and he
said,  "don't have any, I never had one, in those days we weren't into
picture taking." This reminds me to tell my readers, "don't go fishing
without a camera!" You will wish you had.
My short story turned into a long one here, but
what I am trying to convey, is I agree with cell phones, iPads,
notebooks more organized sports than we ever had, and whatever, but in
this new day and age, I also strongly feel there are things in life that
many of these children are missing out on today, and that is
experiencing the outdoors and the lifelong memories. There is so much to
do, not just fishing or hunting, there is a world full of adventure out
there for them, and along with those adventures are memories that will
last until the day they pass. As Bob and I say, as long as we can still
stand up and take nourishment, our memories will continue to carry us
through a lifetime of participating in the great outdoors.
My message is to always take a kid fishing, but how
about the elderly people that would enjoy it too. Some of them have no
transportation, or even fishing equipment, and would give you their
right arm to have an opportunity to wet a line once more in their life.
Kids and elders both like to feel included, catching a fish can be
secondary, just being out there is the great reward.
Your comments and suggestions are welcomed, use
your electronic gadget and email me at:
[email protected]  or
[email protected] .
If you want some fishing hints and updates locally, go to
www.OutdoorsNiagara.com
---
Outdoors in
Niagara
Mark Daul
A New
Fisherman Joining Our Ranks!
When
I was coming home from the coffee shop after chatting with the guys and
listening to some fishing stories the other day, one of my neighbors,
Dan Argona, was in his driveway fiddling around with his boat. I
stopped, and asked him how the fishing was treating him lately. He
couldn't complain he said, it was a little bit slow, and we both agreed,
probably because of the high temps we are experiencing, might be what is
making the bass sluggish and not too hungry. "But I'm still catching
fish" he said, and the little moss that was there didn't seem to matter.
Dan got a new Crestliner boat last year that is worthy of the Lake
Ontario chops and his boat never sits too long. He has it all equipped
for Spring trout and salmon fishing, and now that the bass season is
here, Dan has been trying his luck with Bass in the river and the mouth
of the river, and on the bar in the lake. He often takes his brother or
another friend out fishing, and privately, I regard him as the newest
Lake/River Guide because he has been so successful in such a short time.
In our little chat, he said to me how he enjoys my
articles in the weekly Sentinel, and likes how at the end of my articles
when I always suggest to whomever is reading it, to "Take a Kid
Fishing." Well, he did, and the experience was more than words can
express. Dan took his son, Phil, Phil's friend, Justin Tomaszewski and
Justin's son Tyler, six years old fishing one day. Little Tyler had
never fished before, and for his first time ever fishing, and from a
boat. The quartet fished around for a while, and when the first fish
hit, Tyler had the honor of reeling in the first of the day, with the
help of his dad. The next bass caught was a muscular 3 pound smallmouth
bass, and Tyler was handed the rod & reel to wrestle this scrappy finned
critter, and shortly after hooking it, the 6 year old said, "dad, you
have to help me!" It was a tough one for a youngster at that age.
The third and biggest fish of the day happened to
be the fish you see in the picture. It is a good sized sheephead,
[freshwater drum] and considered by some to be the world's most useless
fish. Not true. They were put in our waters by our creator, and he knew
what he was doing. When fishing is slow, slow, you can always count on a
sheephead swimming by, and giving you a thrill at the end of your line,
not knowing what it is until you fight it up to the side of the boat.
Bring it in the boat and usually it will croak similar to a frog, and I
have seen grown men stand back from one, wondering what the heck that
noise is, shy about getting too close.  Not to get too technical, the
noise is believed to be made from the fish's earbone, called an "otolith."
People think these fish are not good eating, well, they don't taste like
a bass or walleye, but if you put them on ice immediately, clean them
like any other fish, and being an oily fish, they are actually good
smoked. The way I have had them after being smoked, is chopped up like
you would a tuna salad, with the same ingredients, and spread on
crackers. After you try one, you will want to keep one once in a while
for a tasty snack on your next fishing trip. Carp can be done the same
way. I know what some of you guys are thinking; you want to ask "how do
I get them lit to be able to smoke 'em?" Ha, old joke.
Let's get back to Tyler, the newest fisherman
joining our ranks. Dan said, "Tyler had his hands full and gave it all
he's got" when tackling the surprised sheephead, and it turned out this
youngster wasn't about to give up. After this "croaker" got in the boat,
Tyler was exhausted and said, "I think someone has to get the next
fish."
Dan said, "I had more fun watching him and seeing
his excitement! Priceless, is the correct phrase! I think we have a new
fisherman on board." The newest fishing Guide, Dan Argona, added, "this
will be a day Tyler will never forget" then after thinking, he added,
"it's a day I'll never forget!"
There ya go! Go to it. Find a kid then take them
fishing, and it doesn't always necessarily, need to be a boy, girls love
to fish too. Believe me. Always remember to bring a camera!
 Comments and suggestions,
email me at [email protected]  or contact the Sentinel at
[email protected].
As a footnote; those "otoliths," also known as earstones, work on
a fish much like our own ears, helping us keep our balance and navigate.
All freshwater fish have them. In the early days, this small, hard
oval-like material was crafted into prized lucky charms, and worn around
the neck.
---
Outdoors in
Niagara
Mark Daul
Picture is of Danny and son Jesse
Bass Fishing – A Niagara River
Adventure – Coast Guard Encounter
Last Saturday my grandson Jesse, son Danny, and I
went on a little fishing excursion for bass on the Lower Niagara. It was
a bright, no wind, and event filled day as it seemed the fish wanted to
show off. Danny latched onto the first fish, and it was a monster.
Apparently, he was fishing with a dull hook because he got it to the
edge of the boat and the fish winked at him, jiggled his head, spit the
hook, and swam away. He must have told the others to watch out for
plastic motor oil colored tube jigs and to don't be fooled, stay away
from those things. After that, the little ones that didn't listen would
come around once in a while and bite one.  They were put back in the
water while we waited, for the big boys. Forty minutes later the bigger
guys moved in and we invited some for dinner. Six of them came.
I'm sure you have all heard of the stories about
the guy in the front of the boat gets all the fish while the guy in the
back struggles. Well, I was the guy in the back. The guy in the middle
was my grandson, Jesse, and he struggled with me. It was the guy in the
bow with the hot hand. If we turned the boat around, putting the front
where the back was, it was the same, the guy in the bow was nailing
them. I just can't figure that out. Jesse did well, as he enjoyed the
ride, while listening to his father's advice on how to jig his rod, and
how to concentrate. It didn't matter, same bait, same place, same
results for him, nada.
While we were fishing, we saw the Coast Guard
checking boats, and eventually they came around to us, pulling up
alongside of our "vessel," we were greeted with, "how's the fishing?"
After that introduction, they asked, "when was the last time your boat
was boarded?" [for inspection] Captain Danny of our vessel, told him
"about two weeks ago." They wanted to know if we had the paper showing
it was boarded. Our Captain showed it, the young Guardsman passed it to
his commanding officer, or coxswain, who inspected it with a magnifying
glass, handed it back and thanked us. Then all they wanted to see was
three life preservers, after that we chatted. Part of that conversation
was about why the Canadian law enforcement officials are pulling
American boats over that wander into their waters. They said our U.S.
State Department has been working on it, trying to resolve this issue in
someway, but the Canadian officials have not responded. We questioned
about not landing, and just passing through. They told us if you wander
over there, don't shut off your engine to drift or anything like that,
just to keep your motor running. Never thought to ask about sailboats
moving with their sails only. When the Coastguardsmen were getting ready
to part, they said "please start your engine so we can hear it."  By
that gesture they wanted to make sure they weren't driving away leaving
us stranded, I suppose.
We continued to fish along the shore just north of
Joseph Davis Park near the pipeline that comes from CWM, which is a good
hotspot, and is frequented by smallmouth bass. For naysayers, the
pipeline has no water flow now and when it does, it's like one day, once
a year. I remember when that pipeline was going in, a CWM official
saying that water coming out of there was so pure, he offered to drink a
glass of it for his audience. He's not with us anymore, and I often
wondered if he ever did take a sip.
After we caught all the fish in that location we
decided to take a trip to the Coast Guard drift, and try our hand there.
As we traveled north, we spotted two boats together near the middle of
the river, and we thought they were partying. As we got closer, we saw a
large black pontoon boat with small blue lights flashing and a tiny,
what looked like, a 4×6 maple leaf flag on a stick, waving off the
stern. Yup, some American citizen, a dad, with is wife and young son
about 8 yrs. old were pulled over, and being questioned/harassed by the
Canadian authorities. Maybe dad took them out and they were fishing on
New York's Free Fishing Days weekend? [June 23-24] We were wondering how
many others have been pulled over today and ticketed or fined. Sometimes
I wonder if all this continued enforcement is in the name of Canadian
Homeland Security or if it's just another money grab, trying to balance
the budget. I'll bet it's the latter. For you that don't have a clue
where the international border line is, get a map or Google it. One
example, where the Youngstown sailboats are moored, there is a thin
strip of water between them and the border. Look it up.
Anyway, as we approached Youngstown, the water had
whitecaps on it and it was too rough for our boat with the wind blowing
from the west, so we headed into the ramp.  We only kept one limit and
took it home, cleaned them, and had a fresh smallmouth bass dinner with
some leftover macaroni salad my wife made the day before. Well, she
called it macaroni salad, but it had everything in it but the kitchen
sink, and that included tuna fish, and Green Giant peas. Umm, no more
leftovers.
One last thing, Our U.S. Guardsmen don't hassle
Canadians or others, only if landing on U.S. soil, then it is handled by
the U.S. Border Patrol. I would really like to compliment our Niagara
Station United States Coast Guard for being so courteous and efficient,
in doing the job they were sent out to do. When they come up to you,
greet them as they will surely greet you, but have all your safety
things ready and up to date and you'll be on your way in a flash. Also,
I live by the lake, and I frequently see those young men out there in
any weather, any time, searching for, or saving lives, risking their
own. Good to have you around! Thank You.
---
Outdoors in
Niagara
Mark Daul
Picture is of  Steve Drabczyk tossing feed
pellets to baby fish
IS IT A STEELHEAD OR A RAINBOW
TROUT?- Niagara River Anglers Pen
Rearing
OK,
you heard it here. What is a steelhead trout and a rainbow trout? Around
here in our watershed, you could say they are the same, and people like
to call them all "steelhead" it just sounds better maybe. Genetically
they are both the same.  A rainbow trout is a trout that spent its
entire lifetime in freshwater and a steelhead is a fish that grew up in
saltwater such as the Pacific Ocean, and come back to streams to spawn.
Now I'm going to confuse you. All steelhead are rainbow trout, not all
rainbow trout are steelhead. Steelhead is the name given to rainbows
that migrate to the ocean, [Pacific, in particular] grow, and come back
to the streams to spawn. Got that? Confused? Really, who cares at this
point but to simplify, if the fish did not have access to the Pacific it
would be called a Rainbow trout. Who cares anyway?  Ask ten different
fishermen and you will get ten different answers. They look the same,
catch the same, cook the same, and are fantastic on the palette, baked,
smoked, fried, on the grille or even canned. Fresh run trout are a
gorgeous looking fish, and I feel only a brook trout could surpass it
for being the best looking freshwater fish in the universe.
The Niagara River Anglers Association, in
cooperation with the NY DEC on Thursday April 12, stocked 10,000
fingerling [baby] steelhead in their rearing pen that is located in
Youngstown at the Youngstown visitor's overnight boat slip. A fingerling
is about as long as your finger. A mans finger that is, and ladies, you
won't qualify. If you want to see this operation, take a ride down Water
Street and just before you get to the bottom of the hill, make a sharp
right. Go down that short road to the end and the project is right
there. Drive very slowly down that road as workers are putting boats in
their moorings for the season. Don't go in the fenced area to the pens.
The Anglers is one of the pioneers in pen rearing
trout and salmon in New York State. There are a total of seven projects
dotted all across Lake Ontario from Rochester to the Niagara River and
all managed by volunteers from fishing clubs. Plus, there are a group of
guys in Wilson NY that is headed up by Captain Mike Lis, Wilson
Councilmember Brad Clark and a handful of dedicated volunteers.  They
manage a highly successful project as does the dedicated members of the
Lake Ontario Trout and Salmon Association [LOTSA] who have been doing
this for several years also.
The reason for volunteers to work so hard and give
of their time in rearing projects is to maintain a fishery for their
sport, and down the line, hopefully, many of these fish will spawn
naturally creating an even better fishery for future generations.
The reason for pen rearing is that these fish,
[salmon too] get imprinted to the waters where they were raised as
babies other than the fish hatchery, grow into what they call "smolts"
[a little more grown up] then they move out to the big waters of the
lake, grow, and return to the waters they came from to reproduce and
complete their life cycle. Scientists call that "homing" Each stream has
a unique chemical composition, a distinctive odor, and somehow they
return home with the help of their maker in the sky.  Anyway, that's all
you need to know for now about imprinting and "smolts."
I visited the NRAA pen project this week with its
project volunteer chairman Captain Steve Drabczyk from Lewiston, and his
right hand man, Ed Garcia. Drabczyk told me it will be about another
approximately 2 more weeks before these fish will be released. They have
already grown about two inches since being put in the pen Drabczyk said.
These pen projects are a very intensive project that requires planning,
preparation of pens before the baby fish arrive, and then after they
arrive they need to be fed five times a day, every day, starting at 7:00
am, every three hours by an army of feeding volunteers. The feeding
schedule needs to be strictly followed. They are fed prepared fish
pellets like they get in the hatchery, and that trains these little guys
to feed on their own so when they reach the wide open waters, instinct
takes over and off they go fending for themselves. Feed is measured out
ahead of time so as they grow, and requiring more feed, they get the
proper amounts that are pre-planned by DEC biologists. If you would like
to help in any of these projects, these volunteers would love to add
even more volunteers. Email me and I can put you in contact with any of
these fish masters.
The Anglers pens, in a couple of weeks or days,
will see an additional inoculation of Chinook [commonly known as a King]
salmon in their other side-by-side pen. These babies will be fed,
imprinted, and released in the same way as the steelhead [Steelies] are,
and then released in about 3 weeks to go on their merry journey, all in
tip-top shape and all imprinted. The average, freshwater raised,
lifespan of a Chinook salmon is 3 to 4 years, and most common size
caught in New York State is between 15 and 35 pounds; however the NYS
record King was weighed in at an astounding 47 pounds, 13 ounces, in the
Fall of 1991.
"So what, if you have caught a
Rainbow trout, it may also be a steelhead."
Smolt about to be released >

Outdoors in Niagara
Mark Daul
Sometime
ago, I wrote this story about crows. My story routine is, I hand it to
my wife for story content, and to make sure all the T's are crossed and
the I's are dotted. When she finished reading it, I said, "well?" she
crinkled her nose, and said she didn't think the story was interesting
enough. A couple of weeks later I was sitting with a couple of guys
shooting the breeze, and a crow conversation started. I told them about
this story I wrote, and they were all ears when I told them about it.
When I went home, and after thinking about it, I dug the story up out of
my computer, and I thought if these guys thought crows were interesting,
then others should be too. So, here it is:
Crows always fascinated me since I was a young kid.
The neighbor down the street had a pet crow called "Ansy" and a pet
rabbit. They both were well taken care of, but it was Ansy that always
had my attention. I swear that crow knew me when I would come around to
the back of the house. It would get excited when he or she would see me,
and my dog, Pete. It would start talking and saying things like
"hellooo" or "hie" for hi. Or sometimes it would "chirp" fluctuating
between high tones and low tones, probably mimicking other backyard
birds. It also seemed like it would ask me, "what time is it?" I never
knew if it was a he or she, but it was a cool bird. At that time, my
mother had parakeets, and they had a much larger vocabulary than this
crow, but it was the crow that had my attention. Ansy had a great big
homemade cage that was fastened to the porch railing. It didn't fly
because its wings were clipped so it couldn't, but it sure could get
around with short flights and hops. It would flutter down off the porch
railing, hop over to me, follow me around, and be my friend. It liked
Pete, and Pete was pretty proud that Ansy would allow him to give
him/her a ride. Pete was a medium sized mongrel, kind and gentle.
Sometimes they would just stare at each other and Ansy would repeatedly
say hie. I knew where the food was kept, and Ansy knew that I knew. It
would stand tall, look at me, spread its wings out, make talking noises,
and let me feed it and pet it. I felt we bonded whenever I visited, and
it sure liked my peanuts when I brought them, but dry dog or cat food
was a regular diet feed for this birdie. [And the rabbit too.] I am sure
when it squawked and cawed, it was telling me something, and sometimes I
guess I would make up in my mind what it was saying, and I would talk
back.  When our visit was over, I would apologize and tell him he had to
go back in its cage, and understanding me, I would guide him back to it,
and he would gladly hop right back in.
The story about how Ansy became a pet, was that the
neighbor found this crow when it was very young on the ground apparently
falling out of its nest, but no nest was visible, and suffering some
kind of trauma. He comforted it, nursed it, and they became friends.
However, it is not recommended to rescue any wildlife because sometimes
they are better off being left alone, and, rescuing Ansy was back in the
"old days" maybe before laws were made to prevent illegal possession of
wild creatures.  The belief, at the time, was Ansy would be able to talk
better if his tongue was split, but that seemed to be cruel and mean, so
my neighbor never did that. Ansy eventually talked anyway.
During the fall and winter, just before dark, a
couple of my friends and I would venture out to the Niagara Falls Golf
course [Hyde Park] at the very end of North Avenue. Across the green
there was a woods where the creek would flow through, and at night the
crows would gather in huge flocks, probably in the thousands, way up in
the trees where they would make all kinds of noise cawing among one
another, just socializing.  We would make crow noises back at them and
all of a sudden all those crows would turn silent for a few moments then
start socializing all over again. We thought that was fun. It is said
crows are the most intelligent birds in all of North America and I am a
believer. A flock of crows is called a "murder" of crows to be precise,
and that has a good story too. Folklore has it that crows will gather
and decide the death of another crow, and the other thought is, that
they would circle in large numbers where other animals or people were
expected to die.
Crows are very sociable, often when you see them in
groups, they are families. Crow, are seen all over North America and
around here you will see them in corn fields, golf courses and other
places, including your backyard, and you often see them on the road
feeding on a dead mouse or other kind of carrion, but they will eat just
about anything. On the roads you might see one or two feeding on
carrion, and maybe three, four or more, sitting up on the power lines
looking down waiting for their turn, more than likely, they could be
siblings.
They say wild crows don't collect shiny objects
but, Ansy would collect mostly bottle caps, and it would especially like
Christmas tree tinsel it would find in the gravel driveway. Back then
most Christmas tinsel was made of fine shiny metal strips like lead.
Ravens are the birds that love to collect. They'll find things from
anyplace and hide them somewhere. Ravens and crows are identical in
color and shape, but the raven is about 1/3 larger in size than its
counterpart.
Hunting Crows in New York State is legal, and a
hunting license is required. It is legal from September 1 to March 31
and only from Friday thru Monday from sunrise to sunset between those
dates. Besides shotgun, rifles are permitted on hunts. Although the PETA
people are against killing crows or anything else that has "meat," crow
hunting is considered a great sport and a necessary one for controlling
these sometimes huge flocks that can become destructive, and a vehicle
to support various diseases such as the West Nile Virus.  Hunters call
crows with mechanical hand callers or with electronic bird callers, and
are quite successful. Even predator callers are successful into making
the crows think a predator just made a kill, and now there is something
for all to eat. Calling crows can be fun and a great adventure for
youngsters, and spring will be here shortly so that is the time to get
out, look around you and see what Mother Nature brings you. It's also
time to get to your sporting goods store, and take a look at the crow
decoys and calling aids that are available, and even learn your own hand
calling techniques. Don't forget to take the young'uns. Discover the
outdoors!
So, the crux of my story is, yes, I ate crow once,
have you? Delectable. /Comments to this story: email
[email protected]

More articles on our archived
page HERE
---
---
Outdoors in
Niagara
Mark Daul
Picture below submitted by Joe DiMino, Lewiston,
taken with his trailcam
Residents
Report More Bobcat Sightings …… Maybe Canada
Lynx?
From the
time I wrote the bobcat article until now, a lot of people have come up
to me and said "gee, I think I've seen one of those things too." I
agree, they are so fast, it is hard to believe your eyes if you do see
one.
Needless to say, I feel a lot better after writing in the Sentinel about
bobcats in the Niagara area. Now I know I'm not alone about what I saw.
My friend, Mike Gillis, should rest easier too, knowing that our
sightings collaborated our stories with what we saw were bobcats.
The
emails and replies were fantastic as you can see, as you read down
further.
Someone
asked about the Canada Lynx being mistaken for a bobcat. Yes, they
could, but highly unlikely to be found around here. They are similar in
appearance, same food habits, same delights for dinner, and habitat the
same, and they even have the short tails and the pointed ears with the
black fluff at the tip. They are a little larger in size, but extremely
rare in New York State. The U.S. Fish & Wildlife Service [USFWS] has
them on the endangered species list all across the
contiguous
United States, since early
2000. They are more docile than the bobcat, and habitat destruction, and
competition with the more aggressive bobcat as the reason given for
being on the endangered list. Obviously, bobcats are more adaptable to
their surroundings.
George
Green, a Lewiston resident who lives on Mt. Hope Road, between
Garlow and Walmore roads, sighted one in his back yard, and his wife,
and daughter are witnesses. George said he has deer and other wild
creatures visit his backyard, and the night of his sighting, he went out
on his back porch with his night vision scope to see what he could see,
and he saw an animal on the hill in the back. George said he looked at
it and thought, "What the hell, looks like a bobcat!" He called his wife
to take a look and asked her what she thought it was. "As she was
looking through the scope, I stepped out on the porch that turned on the
motion light, and it lit up the area, and sure enough it had the
brownish color and lighter colored belly, little tail and pointy ears."
George said, "the light went out and we waved to turn it back on, but
the animal had gone on the other side of the hill, and all we could see
were eyes and ears." George's mother lives next door, and has chickens,
and she had noticed some have been missing lately. She said some roost
in a small tree, and some roost in the barn where the door is always
open. Aha, just what these critters eat for their midnight snacks!
Chicken! I'll bet that barn door will be closed from now on.
Joe Kilmer
emailed me and said he saw the bobcat article in the Sentinel, and it
jogged his mind about his story.  In mid October, Joe and his wife
Marie, went out one evening around 10:00 o'clock on their way to
Bandanas for a bite to eat.  They left Youngstown via Main Street, to
Jackson Street, as they approached the curve to Old Lake Road, he
started to accelerate and saw eyes glowing in the road way.  The object
was low to the ground, no tail, stubby face and pointy ears, it happened
so fast.  It was heading into the Fort, and he said, "I could not
believe what I thought I saw or did not see." First, he thought it was
it a fox, and turned around as fast as he could while explaining to
Marie what he thought he saw. Joe said he pointed the car into the road
to the Fort with his headlights shining, and saw nothing, it was gone
that fast. Joe said, "I might have doubted what I thought I saw until
today after reading your article. I have also doubted my wife's and
father-in-law's sighting less than a year ago in the back field behind
his house on Dickersonville Road, south of Langdon Road." 
Joe DiMino,
from Lewiston, and I talked, and he reported recording bobcats three
different times on his trail cam, at his hunting cabin down near
Wellsville NY.  He said the first one he saw was recorded on his
Trail-Cam in August just this past summer, and another in October, then
the third in November. Also in November, while he was bow hunting, about
25 yards away, one ran across his path. He said it went so fast he
couldn't get his camera out of his fanny pack quick enough, but he knew
right away what it was.
Jim White emailed me
and said one crossed right in front of him on Upper Mountain Road a
while back, and there is no mistaking it was a bobcat. White also said
there were reports of a Black Panther in the area, but that is highly
unlikely here in NYS according to the NYS DEC: "No cougar [AKA panther,
puma, cougar] sightings documented in New York State."
Thanks to everyone
that responded to the bobcat story, it was very interesting for sure,
and it was fun doing it.
Lewistonian, Jerry
Farrell, and I, attended a Niagara Pioneers Sportsman's Club meeting
recently, and he gave the members a quick synopsis of his purple martin,
and other bird tagging activities over the past 25 years at the 3-F Club
on Swann Road.  I made notes, and took in as much as I could, and asked
Jerry if I could contact him if I have anymore questions regarding his
purple martin tagging efforts for a future Sentinel article. Being the
sportsman, and the only federally licensed bird bander in the area, he
agreed wholeheartedly. Watch the Sentinel for a purple martin tracking
story reported by a nationally, and internationally known local bird
expert.
Fishing updates can
be found on

www.OutdoorsNiagara.com and if you would like to add your thoughts
or would like to read others thoughts on the local fishing scene, follow
the link to the Outdoor Forum. On the website you will find an archive
of Sentinel Outdoor Stories. If you have something you would like to add
here please email me at

[email protected] 
---
Are
There Bobcats in Niagara?
Outdoors in Niagara
Mark Daul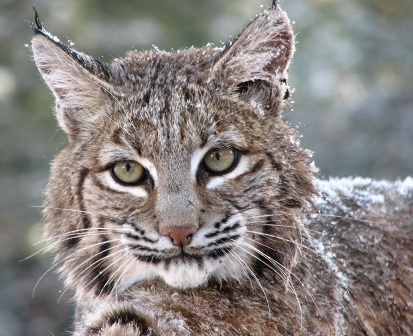 I
recently wrote an article for the Sentinel about Coyotes. I met a friend
in Youngstown at Melloni's Market Place, and he told me he had read the
article, and asked if I heard anything about bobcats in the Niagara
area. That discussion brought me back to a time when I thought I saw one
on the roadway, about 150 yards away looking at me from the road. I
didn't see the whole animal up close, nor did I recognize it from that
distance, and it looked like an overgrown housecat or a stray field cat,
but as I drove closer it sauntered off into the field at the side of the
road. I kept my eye on that spot, and as I approached the area where it
disappeared, then all of a sudden I could see its hind end and the short
tail, and in about two jumps, it was gone. About a month or so after
that, I was in Bandana's on Lake Road, and a friend and I got into a
conversation about different things, and he mentioned he spotted what he
thought was a bobcat near his house, but had only gotten a glimpse also.
We both live in the same general area around Bandana's, and our
description of what we saw were similar, short spotted tail, and
brownish hind quarters. After our sightings, I did some investigating
with area sportsmen/hunters to learn if they ever spotted any creatures
around here that would meet that description, and no one ever even heard
of one around here. Time has passed and I forgot all about my sighting
until my friend in Melloni's Market asked me about these 'cats.
When I got home my curiosity made me Google bobcats in New York.
These wily, secretive felines are interesting and live a good life,
mostly nocturnal, but can be seen in daylight at times, and sighting one
is extremely rare. Their diet is similar to a coyote, believe it or not:
rabbits and rodents, birds, insects, even fish and they have been known
to prey on deer just like its coyote friends in the wild. They are
natural born survivors and live around 12-13 years, and according to
some sources, 6 to 8 years. Males are usually between 32 and 37 inches
long and weigh about 28 pounds. The ladies of this species are anywhere
between 29 to 34 inches and the petite little things hit the scales at
an average of 15 pounds. It had to be a male that I spotted, it was big.
From descriptive pictures I have seen, colors vary from yellowish
brown, light gray, reddish brown, and buff brown, probably like the one
I saw the back end of. They are spotted along the sides, some more than
others, and the tail is between 6-8 inches, multi colored, spotted,
black on top and white on the bottom. "Bobcat," so called because of
it's "bobbed" tail. The face is cute and bright looking, with furry
black tufts at the top of their sharp pointed ears, long fur at its
cheeks and whiskers like your domestic cat. They like to make their
homes in secluded places like rock piles, brush, hollow trees & logs and
ledges where they can pounce on their prey sight unseen. They don't like
human activity and keep to themselves. Predators are few, deaths
occurring mostly from diseases [rabies] or from their prey, in self
defense. If you are out in the winter or spring you can tell bobcat
tracks by their looks and size. Showing four toes without claws they are
about two square inches, which are larger than you house feline, and if
they are running, the stride is between 4 and 8 feet.
Hunting and trapping bobcat is not permitted in Central and Western
NY, the eastern part of the state allows hunting and trapping but check
the laws. Season opens on October 25th.
So, are there bobcats in Niagara? According to the people I talk to,
it is highly unlikely, but what was it my friend and I saw? I think we
saw a bobcat, more than likely, we both saw the same one. I you have had
a sighting in your travels or spot one in your future travels, I would
be interested in knowing, please contact me. Maybe if you want to
actually see a live bobcat, you need to find a zoo with one, but if you
do have a sighting in the wild, by all means get a hold of the DEC
office in Buffalo and if you can, get a picture to verify your sighting
so it can be recorded. [Buffalo- 716-851-7201]
For up to date fishing reports in our area be sure to check out
www.OutdoorsNiagara.com
for the latest. Right now, steelhead fishing in the Lower River is going
quite well, if you are fishing from shore or boat, fishermen are using
eggs, egg sacks, Kwikfish and a variety of spinners and spoons. Wilson
and Olcott pier fishermen have been very successful. If you have
something to add contact me at
[email protected]  or go to the Outdoors Niagara website and
you will find an archive of my recent Sentinel articles there on the
"L-P Sentinel" Page.
---
Outdoors in Niagara
By Mark Daul
A Grand
Island Fishing Opportunity
Last
week, when it was so hot the trees were whistling for the dogs, my wife
and I took a little car ride. We were actually headed for the Canal Fest
in the Tonawanda's, but never got over the South Grand Island Bridge; we
got sidetracked by visiting Grand Island, a place I haven't fished from
in years. I heard about the brand new fishing dock called Fisherman's
Landing, located at the southern tip right near the south Grand Island
Bridge on East River Road. Hoorah! What a great place for shore
fishermen. I didn't go there to fish, just to see what the place looked
like. There is handicap parking right near the dock safety rail, and
non-handicap parking is just above the hill. I could see down in the
clear water that this could be a bass haven for shore anglers just
outside the weedbed. When we arrived there was a lone fisherman named
Steve trying his luck. When I approached him and asked, "How's the
fishing" He replied, "No fish, but fishing is good." I thought, now
there is a person I could like, telling it like it is. I asked Steve if
he lived around here, he said "no, I'm from Depew." "How did you find
this place Steve?" He replied, "I was driving over the bridge and
spotted this dock so I drove around to take a look, I had my fishing rod
in the car, went looking for bait, and found a gas station that had a
sign 'Live Bait.' I got some bait, and so far, I only caught a couple
tiny rock bass " It was 94 degrees that day on the car's digital temp
gauge, and the fish seem to lay low on days like that, just like people
do.
When I was talking to my new found friend, Steve, I
asked if I could take his picture while fishing or tossing his rod out.
He said, "no, I'd rather not." I told him I write articles for WNY
Newspapers, and in particular, the L-P Sentinel. He still didn't want
his pic taken so I looked him in the eye and said, "I'll bet I know
why!" A big grin came across his face, and he said, "think so?" then I
told him, "I'll bet you are playing hooky from work!" With a broadened
grin and a chuckle he said "Yup, you're right!" So I let it go at that.
How many of us have done the same thing on a summer day.
After checking out the huge amount of tiny newborn
minnows and larger shiners traveling the edge of the dock, I thought,
with bait fish like this in here, there has got to be a load of
smallmouth bass lurking just outside the weed beds looking for a fast
meal, maybe even a northern pike or two. The picture showing the dock is
looking east showing the south bridge. Notice how nice the dock is paved
and the garbage receptacles placed there. Handicap parking is ground
level, just about where I'm taking the picture from. No seating, so
bring a lawn chair.
After our investigation of the new Landing, we
hopped in our car and headed down East River Road to Whitehaven to get
on the Thruway and pulled into a McDonald's. Seemed like a good idea to
stop and get a bite at that time of day. We pulled in the parking lot
and spotted TC's Tavern next door. Surely they have air conditioning and
food, so we drove through McDonald's lot and right into TC's. We were
greeted by Sarah, the very congenial barmaid, whom we found out later
was named "Miss Tease" by Dale, a patron who moved over to give us his
seat at the bar. I thanked him and told him we came in to cool off, and
he said "Yeah, it's about time we got some nice weather isn't it?"  I
had to agree, our winters are just too long around here. In our short
stay, and being complete strangers, it seemed like we knew all the
people in there forever. To top it all off, Dale had printed across his
T shirt "Fandemonium" the favorite saying of Van Miller, the
former radio voice of the Buffalo Bills. Among the eats, TC's has
burgers, chicken fingers, beef on weck, that Sarah says is outrageously
good and highly recommended. Looks like a good clean place for locals to
hang out with three flat screen TV's, a pool table, darts, and a new
"Touchtones" internet jukebox. We'll go back.
I suspect Grand Island people are reading this
column and not to sound like a broken record on this subject, but if you
fish or boat off the West and Southwest Island area, be sure you know
your border waters. Canadian law enforcement has been brutal. In a
nutshell, if travelling in Canadian waters, do not shut your motor off
and drift, you will be illegal according to them. Don't touch the
underwater soil with a sinker or anchor or you will be breaking the law,
and subject to a $1,000 fine.  If you plan on doing that, you need to
notify the system called CAN PASS. If you haven't heard of this before
now, call this number 1-888-226-7277, and you can ask about it, and also
register at that number if you plan on entering or landing. I wonder how
this works out for the swimmers at Beaver Island. There, you could swim
out and immediately turn into a foreigner in another country. Silly
isn't it?
I have a lot of great things to say about Grand
Island's fishing opportunities and there's no room in this column today,
but that will be a subject of a future column for sure.
Always remember one thing, take a kid fishing and
don't by-pass the elders who can't get out. They like fishing too!
Always bring a camera.
In case you were wondering, the Fishermen's Landing
was paid for by Niagara River Greenway funds and the NYS Local
Waterfront Revitalization program.
In the photo above, it is showing the south Grand
Island bridge from the fishing platform

---
Coyotes that roam Niagara County
by Mark Daul
Outdoors in Niagara
Niagara coyotes are described as the
Eastern coyote (canis latrans), and
the theory is they migrated to New
York state in the late 1930s and
early '40s. In the 1970s they became
very abundant across the state, and
in some pockets they over-populated.They are an admirable animal to
just sit and watch. Coyotes are very
smart, wily, adaptable, and good
hunters, eating small rodents and
rabbits, and in summertime they add
grass, berries, large insects and
birds at times. Coyotes are mostly
nocturnal, and they love cats that
are left out at night, so make sure
your pets are safe and sound.
Raccoons get blamed for a lot of
things that coyotes can get into,
and they can tip your garbage can
over in a jiffy and feed just like
the raccoons.
Coyotes are about 4 to 5 feet
long including the tail; about the
size of a mid-sized German Shepard,
and weigh 35 to 45 pounds with long
thick fur and bushy tail. Color
varies and the ones I have seen are
generally dark tan and black.
Coyotes may be seen alone or in
small groups. They are often spotted
crossing the Robert Moses Parkway
anywhere between Lewiston and Fort
Niagara, and oftentimes during the
day in late summer and fall, when
the adults send their offspring away
to fend on their own, find their
mates, and take up a new territory.
I live in a neighborhood where
there are virtually no dogs, and
many times this time of year, I go
out in the morning only to discover
piddle on my car tires and against
my shed and other objects in the
yard. It's a sure sign I had
visitors through the night marking
their territories. I have never seen
one in my yard, but I know it was
them casing my territory. I never
found any feces, but if I did I
would know what to look for, as it
is made up of what they eat; parts
of animal hair and bones, and pieces
of nuts and fruits, things they
can't digest. Through the winter
snow coverage they can hear a mouse
tunneling under many inches of snow
and then pounce on it for another
meal. In the spring time when food
gets scarce they have been known to
take down a new born fawn to get a
couple of meals out of, or even
freely eat off a dead deer along the
roadside.
Rabies are rare in coyotes with
only a few cases reported in New
York state. But they are known to
show aggressive behavior sometimes,
so you should always be cautious if
walking your dog through a wooded or
grassy area; they like to show off
their superiority toward other dogs.
You should report any aggressive
behavior to the state Department of
Environmental Conservation or a
nearby police agency and let them
handle it. Dogs and coyotes do not
interbreed.
Getting close to Mother Nature is
a great thing, and many of us are
blessed to be able to get outdoors
in Niagara to enjoy the solitude,
especially with winter snows
approaching where we can get out and
actually track a lot of winter
creatures. Coyote tracks can be a
little confusing; they look similar
to medium-sized dog tracks.
Sometimes when tracking you will see
where one caught his meal and a
scuffle ensued only to see feathers
and bones left. You may even hear
the eerie howls and yelps of the
lonesome coyote in the wind. (They
can be heard up to three miles away
on a quiet day or night and
favorable wind.)
These critters don't hibernate
and they hunt all winter. Hunting
them is regulated, and you can hunt
or trap them in New York state from
Oct. 1 to March 25. And you must
purchase a small game license to do
so. There are no limits on what you
take and you don't have to report
your harvest.
There is a wonderful story about
coyotes on the Outdoors Niagara
website written by local outdoorsman
Mike Gillis, a lifelong resident of
Youngstown. He goes a little more in
depth where he actually encountered
these creatures of nature. For more,
visit
www.www.outdoorsniagara.com/coyotes.htm.
---

More articles on our archived
page HERE
---
NOTE: This article was a letter to
the editor of the Niagara Gazette on November 17 2011
More light on the ethanol fuel controversy
Mark Daul
Youngstown NY
Bob Confer's column of October 11th pertaining to E-10 fuels was
unfairly attacked by Chris Thorne, Public Affairs Director of Growth
Energy. Who is "Growth Energy you might ask?" Growth Energy is a
proactive group of American ethanol producers……of course biased as I can
see. Confer was merely expressing pitfalls of EPA mandated E-10 fuels
and warning of the approaching E-15 fuels that are being blamed for
costly repairs to some older motor vehicles in particular outboard
motors, lawnmowers and such. Confer related the rising prices of food,
and Thorne disputes that fact, but that is a whole different argument.
Neither Confer nor Thorne addressed the real problem and that is with
fuel separation and shortened fuel storage life which happens in
gasoline containing 10% ethanol or even the E-15 [15%] that will soon be
crammed down our throats.
Phase Separation describes what happens to gasoline containing
Ethanol when water is present. When gasoline containing even small
amounts of Ethanol comes in contact with water, either liquid or in the
form of humidity, the Ethanol will pick-up and absorb some or all of
that water. When it reaches a saturation point, the Ethanol and water
will Phase Separate, actually coming out of solution and forming two or
three distinct layers in the tank. This separation it is said, can occur
anywhere from within two weeks to ninety days. Once separation has
happened in your tank, the only way to eliminate it is to completely
drain the tank and start over with fresh fuel.
In older engines Ethanol-Blended gasolines can raise havoc, but Mr.
Thorne didn't mention that either. However, he did say "Ethanol is a
high-octane solvent; and will actually keep your engine cleaner than
older MTBE fuels, extending the life of your boat or outdoor engine." [MTBE
replaced lead as an octane enhancer]. He didn't say older motors [eg.,
boat motors prior to 2007] can be destroyed by metal corrosion,
deterioration of rubber and plastic fuel components resulting in clogged
fuel filters, carburetors and in some cases, fuel injectors. He didn't
say anything about composite fuel tanks being weakened, or lowered fuel
mileage, this means that the more Ethanol found in fuel the worse your
fuel economy will be. You use more gallons of fuel containing Ethanol to
go fewer miles. Another note here is the Federal Aviation Administration
along with some engine manufacturers, has prohibited the use of
automotive Ethanol-Gasoline blended fuel due to safety issues and engine
damage.
I have to agree with Mr. Thorne about these blended fuels creating
"jobs that can't be outsourced". I can assume it has created thousands
of U.S. Ethanol manufacturing jobs just like engine repair shops are
going full steam repairing motors that can't take this product even
though it has been marketed since the 1970's, but back then we had a
choice. Now the EPA mandates that since January 2011, all gasoline
stations carry Ethanol laden fuel. According to the New York Times,
[July 2011] "Food manufacturers and cattle and chicken farmers say the
government's support for Ethanol is, in effect, pushing up food prices."
But not so, according to Chris Thorne, who said, "There is no evidence
that Ethanol results in higher food prices". I guess it all depends on
who you want to listen to, a newspaper writer or a proactive group of
corn/Ethanol producers.
Field corn was projected by the USDA at $3.25 per bushel in 2007-2010
compared to $2.00 a bushel in 2000-2005. Fuel blenders have been getting
Federal Government subsidies to the tune of 6 billion a year. Those
subsidies come from our pockets. But wait! The Senate voted 73-27 in
June to cut annual tax credits for blenders of ethanol. The vote was
largely symbolic since the amendment was attached to a bill that failed.
There was talk about fuel being blended right at the gas pumps, but gas
station owners are reluctant, even though the Feds want to give out
grants to subsidize them. Oh, more subsidies!
Whatever way you look at this problem, remember "Phase Separation" is
a mean result of this blended fuel and if you are storing your lawn
equipment, motorcycle, boat or whatever, remove all the remaining fuel
you have in your tanks and start fresh next season. One thing you can do
for a short term is close off all tank vents and that will help prevent
outside air moisture from entering and spoiling what you do have. The
only good fuel additive that I am aware of is K-100 by Kinetic Labs.,
and is available in many local gas outlets. However, don't wait until
you have the problem, it won't work; use it regularly to prevent the
problem.

►More
articles on our archived page HERE
Thanks For
Visiting!
"Most informative and
up to date outdoors website on the planet"
  Check our Outdoor Forum!

GO HERE It's FREE post what you like!
Free postings and lots information!

Home    
Index/Contents 
Fishing/Hunting Reports   Outdoor
News   NEW!
Hot Links!

    
Club Directory   /
/     Sponsors of this website
Charter a Boat!         HUGE
Links page 
Niagara
County Federation of Conservation Clubs

LIVE LAKE ONTARIO
WEATHER CAM  GO
HERE!
NOTE: If you came to this page looking for the Fake Wolf-dog story, it was
deleted as it was OLD news and yes, a fake.
---